July 13, 2013 - 7:06pm
With more than a decade of experience, yoga teacher opens own studio in City Centre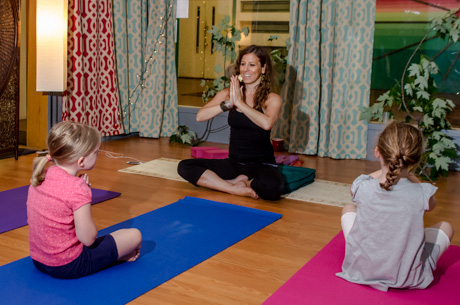 Nancy Jo Rademacker has a joy for teaching yoga that is no more evident than when she teaches one of her regular classes for young children at her new studio in City Centre.
More than 13 years ago, Rademacker reached out to BOCES to see if it offered yoga classes. They didn't, so she offered her services. That was her first job teaching yoga and it's been her passion ever since.
She said it's her "inner calling" and why she also decided to open Maya Yoga Studio across from Sunny's Restaurant in the mall.
The studio is named after her 11-year-old daughter, who also practices yoga.
"Yoga is a way to take care of yourself positively," Rademacker said. "It focuses on the whole of who you are -- physical, emotional and spiritual."
All classes are taught by her. She recently completed an advanced yoga training degree through the Kripalu School of Yoga and Health. The studio space is newly renovated and it is warm, comfortable and inviting. Classes are taught in low lighting with peaceful music playing softly in the background.
The classes that are offered range from gentle yoga for the beginner, to vigorous yoga for the experienced. There are several classes in between, as well as specialty classes, such as prenatal yoga, chair yoga and meditation classes.
There is even lunchtime yoga, which allows you to drop in for a few minutes or spend the whole hour. For some classes, drop-ins are welcome, while the more specialized classes require advance registration.
For more information visit the Web site at http://www.yogawithnancyjo.com/ or call 716-913-9616.
July 13, 2013 - 7:42pm
#1
Ahhh....A bright spot in today's stories in the Batavian....best of luck to you miss rademacker!!!!