August 16, 2014 - 11:58pm
Muckdogs drop to Jammers 4-3 on Kiwanis Bike Giveaway Night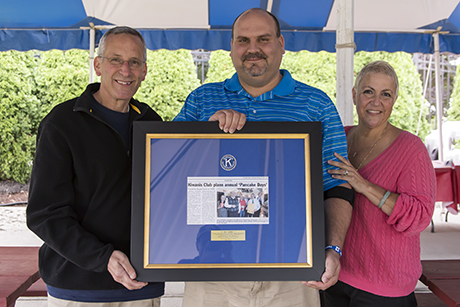 Tonight's Muckdogs game was sponsored by Kiwanis Club of Batavia and numerous events during the game were recognized. In 2011, Kiwanis Club of Batavia lost their location to hold their annual "Pancake Days" but since then Ken Dudek (center), manager of Countryside Travel Centers of America, received an appreciation plaque from President Pat Corona of Kiwanis (left) and organizer of the event at the ballpark, Anita Strollo (pictured far right). Dudek has generously donated all supplies for this event since then and the club honored him this evening.
The first pitch was thrown out by Pat Corona and followed by the first pitch was an ALS challenge Anita Strollo had to fulfill. She challenged Travis Sick, Eric Geitner, Dr. Antoinette Cecere, Ken Dudek and Serena Strollo-Dicenso. The ice bucket was thrown by Joe Forsyth and Pat Corona.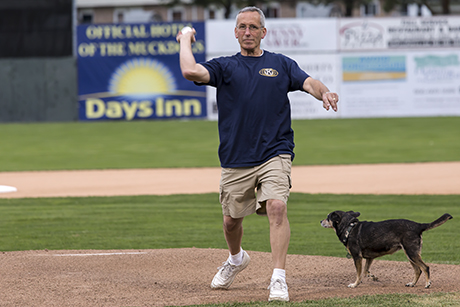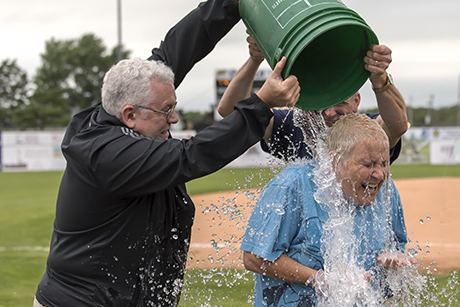 Bottom of the 4th inning Kiwanis announced two lucky winners of their annual children's bike giveaway. The lucky girl was Madison Williams, age 6, and lucky boy was Matthew Covert, age 7.  Kiwanis Club members from left, pictured is Anita Strollo, Theresa Asmus-Roth, Michael Rimmer and Pat Corona.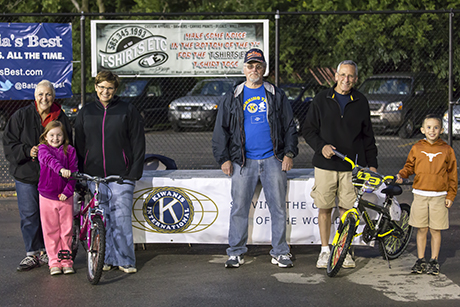 All proceeds of Kiwanis Club benefits children's projects in Genesee County such as Thanksgiving Day Skate, Kiwanis Night at the Ballpark, Easter Egghunt, to name a few. This year's Pancake Days will be on Saturday Oct. 25th at the ARC Community Center on Woodrow Road behind Notre Dame High School.
Batavia lost to Jamestown tonight 4-3. Their next home game is next Friday night, Aug. 22, vs Mahoning Valley, 7:05 p.m. where they will try to set a new attendance record as previously mentioned on The Batavian.