June 25, 2017 - 9:31pm
Muckdogs even up doubleheader against West Virginia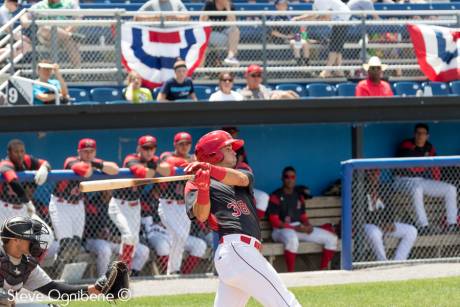 Batavia Muckdogs played a doubleheader this afternoon and split the wins with West Virginia, losing the first game 6-4 and winning the second game 4-1.
Muckdogs led 3-1 after the fifth inning until the eighth when the Black Bears had two men on base. Then Deon Stafford gave West Virginia a 5-4 lead and capped a three-run inning for the team. They added another run in the ninth to finish the game that was suspended yesterday.
In the second game, during the first inning both teams scored a run and remained tied. Bottom of the ninth bases loaded for Batavia, Marcos Rivera hit a walk-off three-run homer as the Batavia Muckdogs beat the West Virginia Black Bears 4-1.
Muckdogs' record improves to 4-3 and they are in a three-way tie for second place in the Pinckney Division with Mahoney and State College.
Next game is tomorrow night to finish the series with West Virginia, game time is 7:05 at Dwyer Stadium. There is a pre-game chicken wing eating contest sponsored by Batavia's Original Pizza. Email Travis Sick at [email protected] before 4 p.m.