April 29, 2013 - 5:20pm
Habitat helps local mother into restored home in Batavia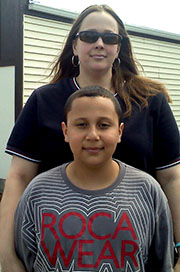 Amy Burdick and her son, Mikah, were living in a subsidized, substandard apartment in the City of Batavia until Habitat entered their lives and worked with them so they could experience what it feels like to own a home of their own for the very first time. 
Burdick is Habitat for Humanity of Genesee County's 10th homeowner. Burdick showed volunteers a cell phone photo she had taken of her current front door (having an inch gap where light and heat were escaping) as she stood next to her brand new energy-efficient home with a big smile. 
Habitat of Genesee did a complete rehab at 104 North St. in a total of 10 months. 
"Being a part of Habitat for Humanity as a homeowner is a life-changing experience," Burdick said.
She highly recommends it to other families who are trying to make ends meet. 
Before Burdick received a flier about homeownership with Habitat, she hadn't considered buying a house in the near future. But she decided to call about the opportunity, and before she knew it, she was selected as a partner family.
"I remember how excited my mom, sister and I were." Burdick said. "We were peeking through the windows before construction had even started." 
Burdick's family was thrilled to know they could provide lunches to the volunteers. Along with other volunteers, Burdick's family was very dedicated in making sure the volunteer work crew was properly feed.
One RIT student said one of the best parts of volunteering with Habitat are the delicious home-cooked meals.
The demo for this house was started during the National Women's Build Day sponsored by Lowe's on May 12, 2012. Women's Build Day brings together women from all walks of life to address the housing crisis facing millions of families worldwide. Women and children are often hardest hit by this epidemic.
Because Habitat is a program that is structured to be a "hand up" and not a "hand out," Habitat homeowners are required to put in sweat equity hours. Burdick put in a total of 350 hours on top of working two full-time jobs. 
Her favorite part of partnering with Habitat?
"The wonderful people," she said with a warm smile. "I didn't know there were people out there still like that, who are so caring, kind and promising."
The house was built by volunteers who met two days a week, six hours a day. There were more than 150 volunteers who gave their time to help make this house a home.
Burdick is still in amazement she said because; "People who do not know me are doing all of this for a total stranger." She commented about volunteer PJ Riner who spent countless hours in between the work days volunteering his time and how grateful she is for him and those who spent so many hours on this house.
Burdick said she will always be connected to Habitat because "they are a group of people with big hearts who want to improve the community and we always had a good time."
Genesee Habitat will begin rehabbing their next home on 11 Harvester Ave. in Batavia. The demo on this house will kick off with the 2013 Women's Build Day. Work will take place on Wednesdays and Saturdays from 9 a.m. to 3 p.m. Volunteers are needed and all skill levels are welcome. Visit www.geneseehabitat.com to sign up and learn more.  

Tasia Boland is operations manager for Habitat for Humanity in Batavia.