February 22, 2012 - 1:40am
Glenn's 37 helps GCC down Alfred State
It took a comeback on "Sophomore Night" for the Genesee Community College men's basketball team, but the Cougars earned a conference win in their final regular season home game of the season against Alfred State College on Tuesday night, 85-82.
Mike Glenn (Fairport, NY) got the Cougars off to a fast start by scoring 16 of the team's first 18 points of the game. Despite the hot start from Glenn, the Cougars struggled, only shooting 29% from the floor in the opening twenty minutes. The Pioneers took advantage of GCC's poor shooting and six first half three-pointers of their own to grab a 13-point, 43-30 lead at the half.
Alfred State held their largest lead at 15 points early in the second half before the Cougars made their comeback. Genesee made a 12-4 run in a four-minute span to trim the Pioneer lead to one at 56-55 with just over nine minutes left to play. After an Alfred State basket, Tyshawn Ferguson (Chicago, IL) and Kenton Chan-Man (Brooklyn, NY) each capitalized on three-point plays to give the Cougars the lead back at 61-58. Chan-Man went on a stretch where he scored nine straight points to extend the GCC lead to nine, and went 4-4 at the free-throw line down the stretch to help the Cougars hold off the visitors.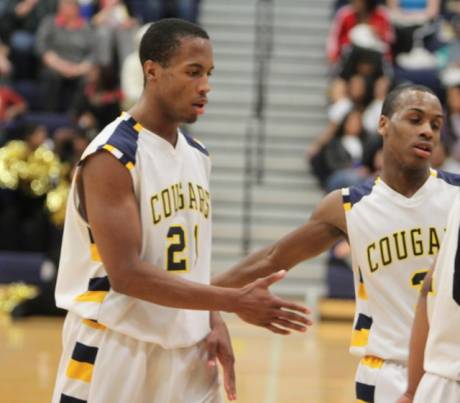 (#21 Mike Glenn scores 37 points in GCC's win over Alfred State)
Glenn finished with a game high and a season high 37 points and also grabbed seven rebounds. Chan-Man finished with 25 points, Ferguson added nine points and Deylon Bovell (Brooklyn, NY) chipped in with eight points and nine boards. Genesee improves to 17-11 on the season and will close out the regular season this Saturday at Niagara County Community College at 3pm.