February 11, 2019 - 10:47am
Remembering Main Street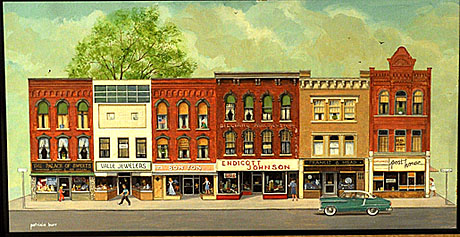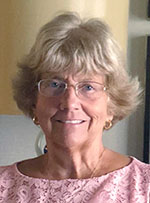 Anne Marie Starowitz
I was looking at our collection of Pat Burr's drawings of old Batavia in the '60s and was amazed at all of the stores that dotted Main Street.
You really could walk down the street and beginning at one end, mail a letter, buy a car, smoke a cigar, look for a gold watch, buy plumbing supplies, pick up your dry cleaning, buy paint, order a drink, have your picture taken, see a movie, eat a doughnut, have your shoes repaired or buy a new pair of shoes. 
If it was afternoon you could have a drink, buy a sewing machine, smell the delicious aroma from freshly baked bread, pick up a prescription, buy a wedding gown (you might need another drink after the cost of the wedding gown), buy new shoes to go with the gown, order a man's suit for the wedding, buy children's clothing, have your eyes checked, buy new furniture, drink a cherry Coke, register for new china, and have a late lunch. 
Continuing west on Main Street, you could make a bank withdrawal for the wedding, buy more jewelry, possibly a wedding band, pick up some fresh produce, purchase a new hat and a real mink coat, pick up another prescription and buy more jewelry.
Now see if you can match the names of these establishments and their merchandise with their locations on Main Street going east from Jefferson to Bank Street.  In the '60s on the north side of the street, there was Mancuso's Dealership, Chris' Gifts, The Smoke Shop, William Maney's Store, Marchese's Produce, and six jewelry stores, Krtanik, Martin Berman's, Valle's, Francis and Mead, Rudolph's and Brenner's. 
Clothing stores were plentiful: Alexander's, Town Shop, Helen's Darlings, A.M. and M. Clothiers, and Smart Shop. Bon Ton and Bell Hat Shops, Humboldt's Furriers, and Charles Men Shop were also located on that side of the street along with the beautiful Dipson Theater. There were two paint stores, Mosman's and Sherwin Williams. There were many restaurants and drinking establishments: Mooney's, Hamilton Hotel, Young's Restaurant, Mike's Hotel, Main Grill, Vic's Grill, The Dagwood Restaurant and Jackie's Donuts. A favorite bakery was Grundler's. A soda shop and candy store was called Kustas'. The furniture store was Bern Furniture and the dry cleaner store was Jet Cleaners. Lawing Picture Studio, Singer Sewing, Genesee Hardware, Western Auto, and the drug stores of Whelan and Dean Drugs were located on different corners. There were four shoe stores, Ritchlin, Cultrara's, Endicott and Johnson and C.E. Knox. The shoe repair was called Boston Shoe repair.
How many of you could match the store with its location?
If you were traveling down the opposite side of the street you would begin with the Courthouse and pass the County Building where a beautiful Christmas tree would be on the lawn. 
Eventually, you would hope to have a deed to your new home filed at the County Clerk's Office. You couldn't miss the Hotel Richmond on the corner that was now just an empty shell. Located within the building of the hotel was Rapid Dry Cleaners. Next, was the three-story J.C. Penney Co. Department Store. If you needed a uniform, there was The Uniform Shop at your disposal. Kinney's Family Shoe Store was located next to the Camera Shop. Caito's Liquor Store was followed by Beardsley's Men's Store, Sleght's Book Store, Bank of Batavia, Sugar Bowl, S.S. Kresge's five-and-dime store, Scott and Bean, Dean's Drug, M & T Bank, Thomas and Dwyer, C.L. Carr's Department Store, Marchese Produce, Good Friend Shop, Rudolph's Jewelers, J.J. Newberry's five-and-dime store, and WT Grant.
Imagining all these stores decorated for the holidays makes you nostalgic for the simpler times, slower pace when the highlight of your week was going to the city on a Friday night to meet friends and shop!