September 21, 2017 - 3:47pm
Artist Terry Weber will teach you how to needle felt a set of pumpkins or a black cat of your very own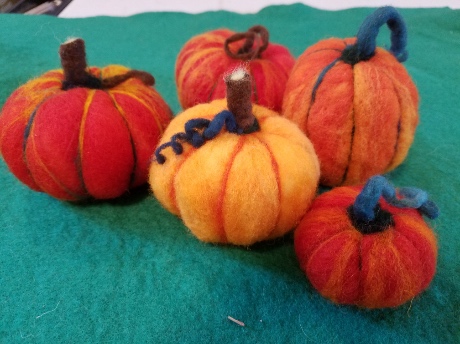 (Photo courtesy of Terry Weber.)
Terry Weber, a member of the Batavia Society of Artists, is offering a beginning needle felting class on making decorative pumpkins at the art gallery and antique shop on Route 63 in East Bethany.
It will be held at the Old General Store from 6 to 7:30 p.m. (or so) on Thursday, Sept. 28. The location is five miles south of Batavia on Route 63.
Cost is $20 and includes supplies and material to make set of two pumpkins. Kits are also available to take home, too.
On the following Thursday, Oct. 5, at that time will be another beginning needle felting class, same price, where you can make a set of pumpkins OR a black cat.
To participate in either or both classes, email Weber at [email protected] or phone 993-0509.
September 22, 2017 - 10:49am
#1
It's Thursday 10/5 for the cat needlefelting.
September 22, 2017 - 2:10pm
#2