May 10, 2018 - 1:10pm
Auto Wash Car Wash on West Main Street Road opens tomorrow with three days of half-price specials, prizes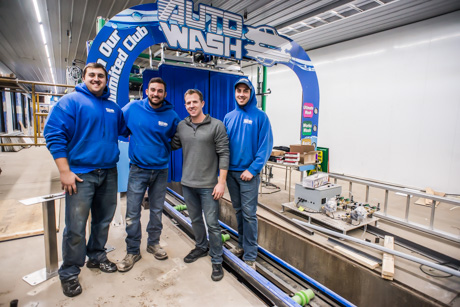 Tomorrow through Sunday, May 13, is the Grand Opening of the long-awaited Auto Wash Car Wash on West Main Street Road in the Town of Batavia.
You are invited to stop by and say hi and try out the completely refurbished car wash.
Throughout the three-day Grand Opening, all car wash package options will be half price. So the normal price range of $17 to $9 will be $8.50 to $4.50.
On Saturday, there will be free lunches served from 11 a.m. to 2 p.m. -- hamburgers, hot dogs and soda pop.
Plus, this Sunday only, which is Mother's Day, from 10 a.m. to 2 p.m. all moms will be able to get a FREE basic car wash!
Look for a prize wheel and plenty of prize giveaways!
The address is 4017 W. Main Street Road. Phone is 219-4431.
Grand Opening hours of operation are Friday and Saturday from 8 a.m. to 7 p.m.; Sunday 8 a.m. to 5 p.m.
To learn more about Auto Wash and what it offers, click here.
For The Batavian's original post on the company, click here.
File photo: Greg Farkas, Ryan Schmeer, Bobby Marchenese, and Zach Letta. Letta will manage the Batavia location.