April 27, 2013 - 4:22pm
Big balloon - or something like it - lands in trees off Pratt Road, East Pembroke responding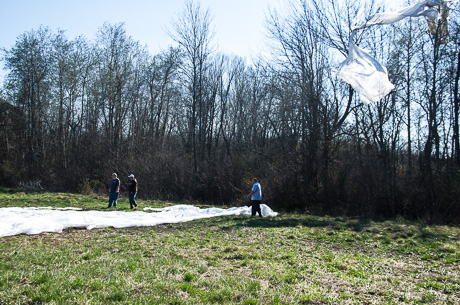 The Emergency Dispatch Center has received a couple of calls reporting a big balloon of some sort crashed into the trees off Pratt Road, east of Powers Road, by the Thruway, and in the woods.
The contraption is hung up in the trees. It's unknown if occupied. East Pembroke Fire Department is responding, along with Mercy medics as a precaution. Mercy Flight is also put on standby.
A responder on scene said he saw the balloon come down pretty fast and it looked liked a "roll of toilet paper coming down."
UPDATE 4:24 p.m.: Witnesses at the scene say no one is in the thing, which is said to be a weather balloon. East Pembroke and medics are put back in service.
UPDATE 4:29 p.m.: The weather service in Buffalo told dispatchers these types of balloons are put up every 12 hours, every day. This one apparently fell short due to a lack of wind. The white object seen falling from it is thought to be its instrument box. Responders say they haven't located it and think it might be in the swamp. If it's found it will be sent back to Buffalo. The weather service doesn't want the damaged balloon back, just the instrument box.
UPDATE Monday, April 29: This wasn't a weather balloon after all. It is a "crop blanket" from a nearby farm. The farmer told authorities that he had put it over his crop on Friday and on Saturday half of it tore off and blew away. Intact, the crop blanket measured 250 feet by 50 feet.