January 5, 2013 - 5:24am
Car crashes into house on South Main Street in the city, driver flees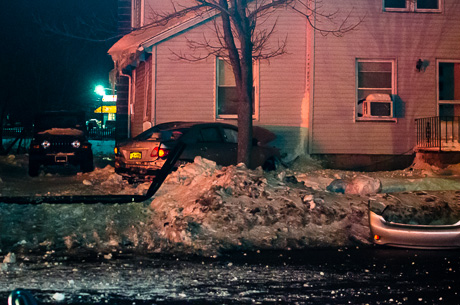 A car has crashed into a house at 26 S. Main St. in the City of Batavia. The driver has fled, according to a witness on scene. Police officers and the fire department are on scene. There is a natural gas leak at the damaged house and National Fuel is being notified. The location is in the area of the roundabout.
UPDATE 5:27 a.m.: The natural gas meter has been destroyed and National Fuel is notified to expedite a crew to the location.
UPDATE 5:33 a.m.: A bottle of an alcoholic beverage was found outside of a house on the South Pearl Street Extension. Police now have the vehicle's driver and are taking the person to police headquarters for "field testing," (sobriety check) according to an officer at the scene.
UPDATE 5:41 a.m.: National Grid has a 15-minute ETA.
UPDATE 5:44 a.m.: The Department of Public Works is being notified that a light post was knocked down and there are exposed electrical wires at its base.
UPDATE 5:55 a.m.: According to eyewitness(es), the car came into the roundabout at a high rate of speed, maybe 60 miles an hour. It struck a snow bank and a light pole, sending it airborne in a southeasterly direction whereupon it crashed into the house at 26 S. Main St. The car was dragging the light pole behind it -- one of the newer black ones. A neighbor said the noise was so loud "it sounded like Santa landed on the roof."
UPDATE 5:58 a.m.: National Fuel reps are on scene. A city code enforcement officer is called in.
UPDATE 6:11 a.m.: National Grid is called in. No ETA given. The bottle of alcohol which was recovered by the house on the South Pearl Street Extension was allegedly thrown from the vehicle by the driver, according to a witness. The driver is now in custody and is being charged with driving while intoxicated and faces numerous other charges, a police officer said.
UPDATE 6:21 a.m.: No injuries are reported. The occupants of the damaged house and their neighbors have been evacuated.
UPDATE 7:33 a.m.: City fire back in service.
UPDATE 8 a.m. (by Howard): The driver is identified as 22-year-old Cory D. Goff, of 457 Mt. Read Blvd., Rochester. Goff was arraigned in Batavia City Court this morning but the full list of charges against him has not yet been released. 
According to Officer Darryle Streeter, Goff was allegedly driving his vehicle eastbound on Route 33/Pearl Street when he entered the roundabout at a high rate of speed. His vehicle struck a curb, went airborne, hit a lamp post, several signs and plowed through a snowbank. It then slid on its side across South Main Street, uprighted itself, hit another snow bank, sending it airborne again before it struck the house at 26 South Main.
Witnesses allegedly saw Goff exit the vehicle and run across the street and dispose of a bottle. The bottle was recovered by police. Goff then reportedly went back to the house and notified the residents that there was a gas leak. Goff was still on scene when police arrived. He was taken to Batavia PD headquarters for questioning and a field sobriety test and subsequently arrested on a DWI charge and other charges.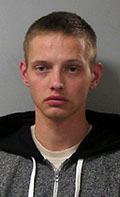 Rob Ogeen, a neighbor and one of the witnesses, said the crash was so loud it sounded like "Santa landing on the roof."
Nobody was injured in the accident. An upstairs resident of 26 S. Main slept through the entire event and only came out after being awoken by the landlord.
The location is next door to a vacant lot that contained a house until March 2010, when another driver came through the roundabout at a high rate of speed, lost control and knocked the house off its foundation. In this accident, the residence does not appear to be as seriously damaged.
UPDATE: Goff was charged with DWI, refusal to take a breath test, speed not reasonable and prudent, unreasonable speed/special hazards (roundabout), reckless driving, and two counts of failure to keep right.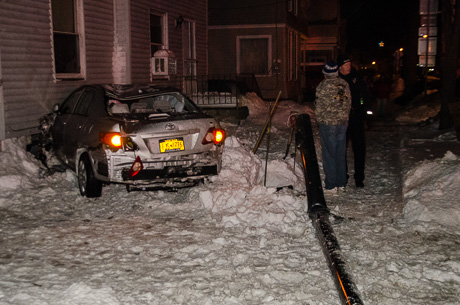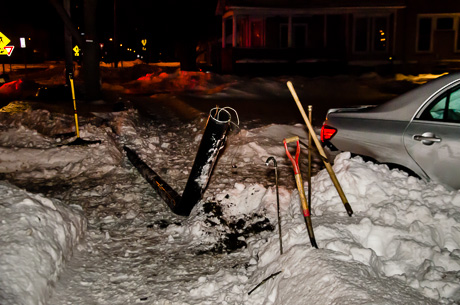 January 5, 2013 - 8:43am
#4
Boy them there roundabout can be tricky, and then with the conditions and all he's lucky he didnt end up unconcious right next to the resident that slept through it all. At least he was nice enough to go in and tell all the residents bout the nautral gas leak. My surprise is that National Fuel had to be called twice and have their crew expidited. Seems to me a car crashing into a gas meter would be a high priority especially in a residential setting... after all the get a pretty primo penny for the services they provide.