July 14, 2011 - 9:09pm
Car vs. pedestrian accident in the city with serious injuries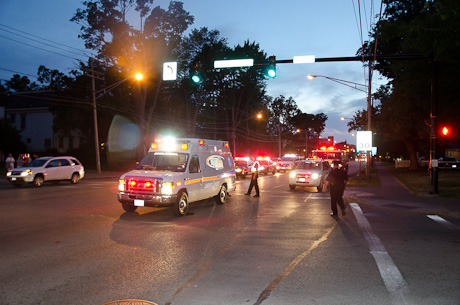 A car has struck a pedestrian at East Main and Elm streets in the City of Batavia. Injuries are serious. The fire department and Mercy medics are responding. Mercy Flight out of Buffalo has been notified and will be responding.
UPDATE 9:17 p.m.: Mercy Squad #2 is en route to the Genesee County Airport with a patient on board for Mercy Flight to transport.
UPDATE 9:32 p.m.: Mercy Flight is airborne and headed to Strong Memorial Hospital in Rochester.
UPDATE 9:57 p.m.: Statements from witnesses indicate the woman who was struck, whose name has not been released yet, may have been trying to get hit by a car. Gretchen Hawley, who was sitting on the patio of a nearby restaurant with her father, Ted Hawley, said she saw the woman dart out into traffic as a car was heading west with a green light. The car managed to stop before hitting the woman. The woman then went back to the sidewalk and waited a while then with a green light for westbound traffic and a small black sedan approaching, the woman ran into the street again. "She went out in the street and then sped up to get in front of the car," Gretchen said. Ted added, "It was totally deliberate." Police confirmed that other witnesses told consistent stories. The driver of the car was shaken up, but not injured. The woman said she was "hurting all over" and transported to Strong by Mercy Flight as a precaution. It's unknown if she has any internal injuries. She was conscious and alert at the time of transport.
UPDATE: The victim has been identified as a 49-year-old woman from Le Roy, but her name is not being released at this time. Her medical condition is not known at this time.
July 15, 2011 - 10:43am
#2
It's just a ploy to get drugs and hopefully some money. At least it will help the citizens of Batavia identify another scumbag ambulance chasing lawyer, because someone will surely take her case. You can bet on that.