June 28, 2018 - 3:11pm
Genesee County Interagency Council awards two $1,000 scholarships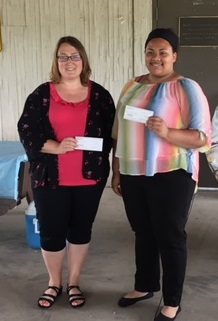 Press release and submitted photo:
The Genesee County Interagency Council awarded two scholarships at their annual picnic on June 20 at DeWitt Recreation Area.
The goal of the scholarship is to support students who have a strong drive to contribute to the field of Human Services. The Council was seeking applications from high school students as well as college students who were pursing their education in a Human Services major.
The Genesee County Interagency Council awarded $1,000 to Parise Ricks. Ricks is a Batavia High School graduate and will be attending Ithaca College in the fall to study Psychology. Her long term goal is to earn a Doctorate in Clinical Psychology.
The Genesee County Interagency Council awarded $1,000 to Eva Graham. Graham is a wife, a mother of three, and will graduate with a degree in Human Services from Genesee Community College in December with a focus in Gerontology. She plans to continue her education at SUNY Brockport to study Social Work next spring.
Applicants had to be in a good academic standing, majoring in Human Services, Social Work, Sociology, or Psychology. Applicants needed two letters of recommendation from a guidance counselor, teacher, or other professional person. They also had to describe why they were deserving of this scholarship.
The mission of the Genesee County Interagency Council is to create fellowship and understanding among community human services agencies. The council helps to identify community issues and encourages development of resolutions. The Council is happy to have been able to award such deserving candidates and wishes them nothing but success for their future!
(Photo: GC Interagency Council scholarship recipients Eva Graham, left, and Parise Ricks.)