July 31, 2017 - 1:29pm
HLOM History Heroes Summer Program -- 42 campers learned about the Great War, zoo animals, held Penny Carnival raising $160 for vets' PTSD Clinic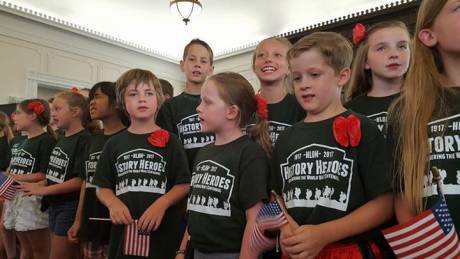 Photos and information provided by Anne Marie Starowitz.
The 2017 Holland Land Office Museum History Heroes Summer Program was eight days of fun-filled times celebrating the centennial of World War One.
Our 42 campers learned the full history of World War One and its connection to the history of Genesee County through the current exhibit "Over There to Over Here: 100 Years Later Genesee County in the Great War."
The program included: a field trip to the Theodore Roosevelt Inaugural Site in Buffalo; a presentation from Teresa Wood about the Doughnut Girls of World War I; a visit by animals from the Buffalo Zoo; a historic walking tour of Downtown Batavia; a special screening at the Batavia Showtime movie theater; camper-ran Penny Carnival, which raised $160 for the local PTSD program at Veterans Hospital.
The program culminated in a patriotic program of history and music performed by the children at the Old County Courthouse.
We would like to thank all our sponsors for their support to make this program as enjoyable as possible, including those local restaurants that provided lunches: Ken's Charcoal Pits, Batavia's Original, and Ficarella's Pizzeria. We would also like to thank all the volunteers that gave their time to make History Heroes possible.