December 12, 2017 - 8:46am
House fire reported on Judge Road in Alabama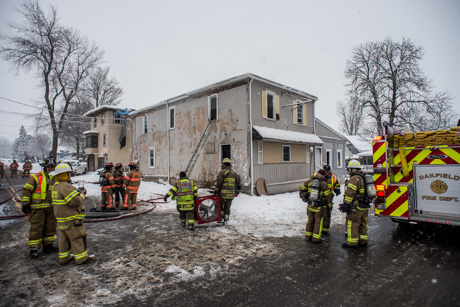 UPDATED 12:40 p.m.
A candle may have sparked a structure fire at 2210 Judge Road shortly after 8 a.m. that caused smoke inhalation and burns for one resident of the apartment building.
Alabama Chief Gary Patnode said the cause is under investigation but the resident mentioned a candle before being transported to ECMC by Mercy EMS for treatment.
A dog in an upstairs apartment succumbed to the smoke and two cats were rescued, including one that required emergency medical assistance from volunteer personnel at the scene.
The apartment complex is a former store that contains four units, but only two were occupied.
When Alabama fire was first dispatched, there was an upstairs resident who was unaccounted for and firefighters immediately searched the upstairs unit. The man is a former Alabama volunteer and his wife is a current volunteer. After some phone calls, Patnode said, the man was located at another location and was safe.
Another person was evaluated at the scene by Mercy personnel.
A quick response helped get the fire knocked down quickly, Patnode said, but he credited the resident, primarily, for closing the door behind her when left the structure.
"The homeowner did the right thing," Patnode said. "She closed the door upon exiting the apartment, which primarily kept (the fire) confined to their apartment. The fire was oxygen deprived upon our going in there. Pretty much, it burned itself out."
---------------
Initial reports below:
A house fire is reported at 2180 2210 Judge Road, Alabama. Alabama Fire Department is responding along with mutual aid from Pembroke, Oakfield, East Pembroke, Elba, Darien, Shelby and the city's Fast Team. No people are entrapped, but there may be animals inside. The third platoon is requested to stand by in city fire headquarters.
UPDATE 8:48 a.m.: Two people have minor burns on their hands. One is at the house next door and the other is at the church on the corner. Mercy medics are responding. Law enforcement is responding. Traffic will be shut down by fire police at Route 63 and Gorton Road, and Route 63 and Macomber Road.
UPDATE 9:02 a.m.: Code enforcement and National Grid requested to the scene.
UPDATE 9:05 a.m.: Indian Falls was also called and now Akron is asked to stand by in the Indian Falls' station. 
UPDATE 9:14 a.m.: Alabama command reports the fire is under control.
UPDATE 9:17 a.m.: Any tanker called but not yet deployed is returned to service. A fill-in from Town of Batavia is requested to Oakfield Fire Hall.
UPDATE 9:18 a.m.: Corfu is called to stand by in its own quarters.
UPDATE 9:26 a.m.: Fire is out; doing overhaul and ventilating.
UPDATE 9:33 a.m.: One person was transported to ECMC with minor burns and suffering from smoke inhalation. Another person is being evaluated by medics at the scene.
UPDATE 9:38 a.m.: The pet dog died in the fire and was just removed by firefighters. Responders are trying to resuscitate one pet cat and another one made it out safely.
UPDATE 9:48 a.m.: The ailing cat was successfully resuscitated and is fine now.
UPDATE 10:13 a.m.: Town of Batavia fire and Sheldon fire requested to return to scene. 
UPDATE 10:14 a.m.: Elba requested to stand by in quarters.
UPDATE 12:45 p.m.: Crews are picking up.
December 12, 2017 - 10:50am
#1
Thank you to all involved! Grateful that there was no loss of human life and that they took the time and care to rescue two cats. I am very sorry for the loss of the dog. Again, Thank You to all involved in putting out the fire!!
December 13, 2017 - 7:47am
#2
ALL of the departments at that scene were VOLUNTEER fire departments ---MANY THANKS to those brave citizens for VOLUNTEERING their time and VOLUNTEERING to chance their LIVES to save other people's lives and homes. God bless them all.