November 25, 2015 - 1:47pm
Laying the foundation for the City's Centennial legacy gift - a sundial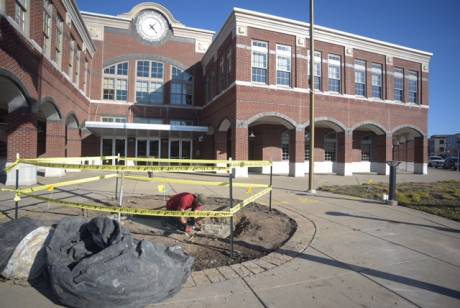 A worker is preparing the foundation for a sundial so it can be permanently placed in the plaza in front of Batavia City Hall.
The Batavia Centennial Committee and its Legacy Sponsors are going to present the sundial as a gift to the city.
The sculpture, designed by local architect Ed Smart, is made of steel and teak, with stainless steel lettering, and is said to be virtually maintenance free. It costs $15,000 to $20,000 and is being paid for by the contributions several local businesses made to the Centennial Celebration as "Legacy Sponsors."
There's no expense to the city. The City Council has already approve placement of the sculpture on city property.
November 26, 2015 - 8:38am
#1
Between the Clock that's already there and now the Sun Dial, add in the Rocket Car, made me think of Back to the Future. Maybe it's the little things that will bring Batavia back.
Here's to all the pieces of the pie big & small.