November 19, 2018 - 3:16pm
Local businessmen are giving back to the community during 'Lovember'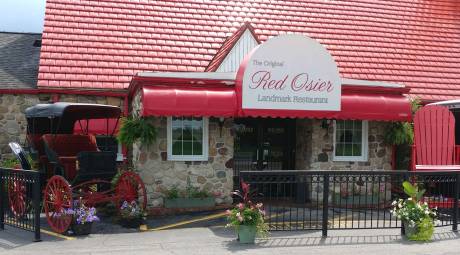 Press release:
For the third year in a row, Steven Foster and Timothy Adams, owners of The Red Osier Landmark Restaurant and Adams' Welding and Fabrication, both located in Stafford, use their businesses as tools to give back to their community in a monthlong event they have named "Lovember."
All this month, the restaurant has been offering promotions while giving back to the local community. These include "Christmas in November," "Winter Wonderland of Lights," "Spirits and Skivvies," "Thanksgiving Give Back" and "Food for Le Roy Food Pantry."
Christmas in November
This is a promotion where if you purchase a $50 gift certificate, you receive a complementary $20 gift voucher for January, February and March. Some restrictions do apply. The restaurant has run this promotion for well over 20 years.  
Winter Wonderland of Lights
The "Original" Red Osier Landmark Restaurant is rapidly becoming the largest holiday light display in Genesee County. With well over 2 million lights on display, its official yearly unveiling will be on Friday, Nov.23rd. Passionate about sharing the joys of the holidays with others, the owners encourage families, friends, and community members to come out and stroll through their property. On Monday Dec. 3rd and Monday Dec. 10th, Santa will be stopping from 5 to 8 p.m. This is free event allows families to take their own pictures with Santa, while having horse and carriage rides while taking in the holiday surroundings. The Red Osier Landmark Restaurant's Lunch Trailer will be on hand for the purchasing of roast beef sandwiches, chili, salt potatoes, hot cocoa, and homemade Christmas cookies. Save the dates!
Thanksgiving Give Back
The Restaurant will once again be open on Thanksgiving starting at noon. A portion of the sales proceeds will be donated to Genesee Cancer Assistance, and the founding of two scholarships in the name of the restaurant and its brother company Adams' Welding and Fabrication. These scholarships will be given to two high school students attending Genesee Valley BOCES in the Metal Trades Program and Culinary Arts Program. Each student must have a good standing GPA, have a part time job, and have a record of local community involvement. It is our hopes that these scholarships will be the largest offered in these trade programs history and allow these two students to pursue higher education within these fields.