March 2, 2015 - 3:19pm
Local family joins statewide campaign calling for more funding for developmentally disabled
posted by
Billie Owens
in
ARC
.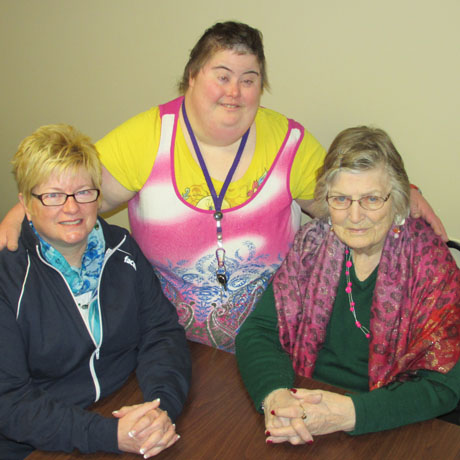 Althea Penepent (right) with her daughter-in-law Jeanne and daughter Valerie. Mrs. Penepent is speaking out on the need for expanded services for people with developmental disabilities in New York State for her daughter and thousands of others on a waiting list for residential services.
Press release:
BYRON – Althea Penepent often wonders (and worries) what will become of her daughter Valerie after she's gone. So, Althea has joined a growing number of families across New York State advocating for expanded services for people with intellectual and other developmental disabilities. The "Families Cannot Be Caregivers Forever Campaign" calls current funding in the New York State Budget completely inadequate to meet the needs of these New Yorkers, many living at home with aging parents.
Valerie is the seventh and youngest child of Althea and Richard Penepent, born Feb. 2, 1977. Althea shares that her pregnancy and delivery with Valerie were the same as her first six children. She was blindsided when her doctor came into her hospital room after Valerie was born and coldly stated, "Women over 40 shouldn't have a child because she's mongoloid," then turned on his heel and left. A nurse's aide called Richard Penepent, plowing snow in the aftermath of the Blizzard of '77, to come talk to his wife.
When Althea told Richard their baby girl had Down syndrome, he calmly and confidently said, "Althea, we'll handle it." Those words from her husband were all Althea needed to hear to reassure her that her new baby would have every opportunity to thrive and learn in a home filled with love.
Today, Richard Penepent, 88, has dementia and has been in the Le Roy Village Green Nursing Home for 13 months. In looking back on this last year, Althea reflects, "He doesn't recognize very many people any more – but he always knows Valerie, no matter what, and calls her by name."
Genesee ARC Medicaid Service coordinator Roxanne Monteleone has worked with the Penepent family for the last ten years.
"Valerie's future weighs heavily on Althea. Valerie is on a waiting list for residential placement, but with no funding in the State Budget, every agency's hands are tied," Monteleone said. "It's a very real concern for many families we serve."
Valerie has had an amazing 38 years, and she will proudly share her many accomplishments.
"I graduated from Batavia High School in 1998 and then began working at the workshop (ARC Sheltered Work Center), Valerie said. "I like to cook, dance, do laundry, crafts, go shopping and do jigsaw puzzles."
According to her sister-in-law Jeanne Penepent, "Valerie loves to gives birthday cards and is always sharing little gifts for special occasions."
The recent death of Althea's sister and sister-in-law combined with her husband's health and her own glaucoma has Althea even more concerned for Valerie's future.
"She has come a long way," Althea said.
Besides regular and special education schooling, the family paid for private math and reading classes for Valerie for 20 years in a program that originally began at the Rochester Institute of Technology.
Valerie has been attending the Genesee ARC Sheltered Work Center day program since she turned 21. She has learned a lot of new skills and tackles every job with great pride. When asked her favorite job, her immediate response is, "cheese boxes," a longtime Work Center contract for Yancey's Fancy.
"What concerns me is where she will live, who will care for her after I'm gone," Althea said, "Valerie is a blessing, but my other children have families and concerns of their own. I feel a residential placement is the best for Valerie's future."
According to the most recent data provided by Genesee ARC's state association, NYSARC, Inc., 12,000 people in New York are on a waiting list for residential options, while 4,000 people are in critical need.
The last time there was any major residential development in New York State was in 1998 with the announcement of the NYS CARES (New York State Creating Alternatives in Residential Environments and Services) program by then Governor George Pataki. NYS CARES was pegged as a five-year plan to virtually eliminate the waiting list for out-of-home residential services for people with intellectual and other developmental disabilities.
"While NYS CARES resulted in meeting the needs of thousands of New Yorkers, at the time, development has been at a standstill for years," Genesee ARC Executive Director Donna Saskowski said. "New York needs to step up and provide the necessary funding, to help the thousands more families like the Penepents."
While facing so many life changes, Althea Penepent wondered aloud how different life might be if Governor Cuomo was in her shoes.
"If he had a handicapped child, maybe then he would understand," the mother said. "Valerie votes --- 'people with disabilities have rights, too.' "
NYSARC statistics estimate nearly 200,000 people with developmental disabilities in New York State live with family caregivers; more than 50,000 live with family caregivers over 60 years of age.
Families across New York are urging their state legislators to advocate on their behalf to include funds in the upcoming budget to provide critical residential services, at last giving families peace of mind, knowing when they're gone their child with a disability will be cared for.
A link to the Families Cannot Be Caregivers Forever Action center is on the Genesee ARC Web site, www.geneseearc.org.
March 3, 2015 - 4:00am
#1
"He doesn't recognize very many people any more – but he always knows Valerie, no matter what, and calls her by name."
Heroes aren't always found in uniform. Kudos to ARC. The more I learn about ARC, the more I'm impressed.
This is a big story.