July 27, 2018 - 3:27pm
Local musicians try to tear down stigmas about mental illness, will perform Monday at Kingdom Bound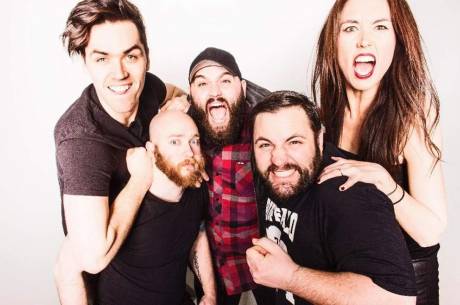 From a press release and other sources:
Tetelestai, an alternative metal band with members from Genesee County and Buffalo, will be performing at next week's Kingdom Bound festival at Darien Lake Amusement Park.
Founded in 2015 as a worship project, the band consists of: Ronnie Shrock, from Buffalo -- vocals; Andrew Perkins, from Stafford -- rhythm guitar; Paul Mitro, from Buffalo -- lead guitar; Marci Jonathan, from Batavia -- bass; and Nate Jonathan, from Elba -- drums.
Tetelestai will be playing on the Awaken stage inside the park at 1 p.m. on Monday, July 30th.
The band's name derives from the Greek for "It is finished," which is found only twice in the New Testament: In the Gospel of John (19:28 and 19:30) and nowhere else in the New Testament. According to John's Gospel, those were the last words spoken by Jesus of Nazareth, uttered before his death by crucifixion at Golgotha.
The band spreads a message of hope and love through their music and works to tear down the stigmas associated with mental illnesses.
Their music features heavy guitar riffs, breakdowns, double bass, and the occasional scream, although at heart there's the stillness of the worshipper. Their message of forgiveness, self-worth, love and hope is relayed with high energy and remarkable brashness that would be hard to forget.
Their sophomore album "Anxiety," which is set to release this fall, delves into issues such as depression, suicidal thoughts, and of course, anxiety. The first single release from that album, "Good for the Soul," is out now.
Their music, including the new single "Good for the Soul," can be found on any music streaming platform or through their website at www.tetelestaiband.com
The Christian music festival at Darien Lake, which runs from July 29 to Aug. 1, will also feature top national Christian artists Toby Mac, Casting Crowns, Mandisa, Danny Gokey and for King & Country -- a total of more than 40 artists and speakers. Organizers expect the largest crowd in over half a decade to attend, bringing people in from across the United States and Canada, not only for the music but also lots of family-friendly activities.
About Kingdom Bound: 
Kingdom Bound Ministries Inc. exists to present the Gospel through a variety of art forms including concerts, outreaches and an annual performing arts festival; to bring people to a saving knowledge of Jesus Christ and to encourage believers in their walk with God.
To purchase tickets or find out more information about the festival go to www.kingdombound.org/festival