February 28, 2017 - 5:50pm
Local youths lobby for Albany's support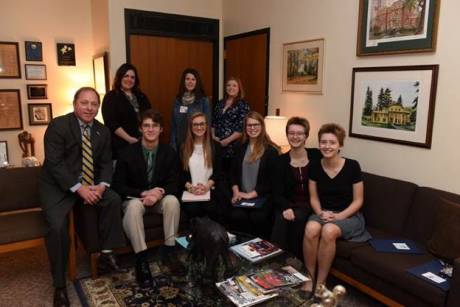 Submitted photo of Assemblyman Stephen Hawley with youth representing the Batavia City Youth Bureau, the Genesee County Youth Bureau and the Orleans County Youth Bureau along with staff from the Batavia City Youth Bureau and the Genesee-Orleans County Youth Bureau.
Press release:
Earlier this month, local youth from Genesee and Orleans County met with Senator Ranzenhofer, Senator Ortt and Assemblyman Hawley to get supprt by investing money in the Youth Bureau System. The youth asked for help in urging the $1.7 million to be restored for the 2017-2018 Youth Bureau Development Program.
The Youth Development Program allows youth bureaus, along with many other community based organizations to operate after school prevention programs, which help youth succeed. The youth all shared their experiences being involved with the Youth Bureau System and how it has positively impacted their lives.