August 11, 2019 - 12:24pm
Muckdogs return to Batavia for six-game home stand with two game first-place lead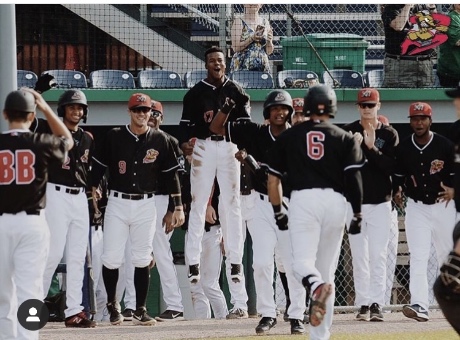 Submitted photo and press release:
The Batavia Muckdogs start an important six-game home stand late this afternoon at Dwyer Stadium with a two-game lead over West Virginia in the New York-Penn League Pinckney Division.
The Muckdogs take on Mahoning Valley today at 5:05 p.m. as well as Monday and Tuesday at 7:05 p.m.
The second-place West Virginia Black Bears (Pittsburgh Pirates) are at Dwyer Stadium Wednesday, Thursday and Friday, all games at 7:05 p.m.
On Saturday night, Batavia needed extra innings to fight off Pennsylvania's third-place State College, 3-2.
State College had a 2-1 lead in the ninth, but Batavia Manager Tom Lawless went to work with a series of moves to tie the game.
After Harrison Dinicola singled, Ronal Reynoso pinch ran and Julian Infante singled him to second. Lawless then called on Brayan Hernandez to lay down a bunt which sent Reynoso to third. Jack Strunc then hit a ball to the right side scoring Hernandez to tie the game.
In the 10th, the minor league rules start a runner on second. Lawless put the speedy Kobie Taylor on the bases and he scored on a fielders choice by Troy Johnston.
In the bottom of the 10th, Lawless turned to closer Evan Brabrand, who got one out on a bunt, moving the tying run to third. He struck out a batter and got a groundout to Dalvy Rosario for the win.
Brabrand, a ninth-round draft pick of the Miami Marlins this year out of Liberty University in Lynchburg, Va., is 3-1 on the season with 11 saves in 15 appearances with a 1.84 ERA.
Eli Villalobos, a 14th-round pick out of Southern California's Long Beach State in 2018, had a strong start, going five innings with six strikeouts, did not allow a run and walked just one scattering three hits. Brock Love struck out three in two innings and Josh Simpson struck out two in 1.2 innings without a walk or run, lowering his ERA to 0,63.
At the plate, J.D. Orr, the NYPL's leading hitter went 2-for-5 with his 23rd stolen base as Johnston, Nic Ready (Double) , Dinicola, Infante, Strunc and Mikey Hernandez (RBI double) all had hits.
Sean Reynolds walked and stole his second base of the season.
Kids run the bases today after the game and MuckPup Kids Club members get in free. There will be autograph sessions and a chance for photos and selfies with your favorite players starting at 4:20 p.m. near the concession stand.
Tickets are available at muckdogs.com or stop by the Dwyer Stadium Ticket office between 10 a.m. and 5 p.m. during the week. The number is 585-483-3647.