November 9, 2018 - 4:05pm
Newberry Project in Batavia gets Honorable Mention in Rochester Community Design contest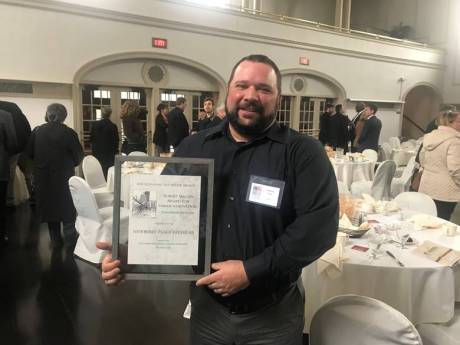 Submitted photos and press release:
On Thursday, Matt Gray (in photo above) accepted the Robert Macon Award with an honorable mention from the Community Design Center of Rochester -- Reshaping Rochester awards on behalf of the Newberry Project.
The award was established to honor the late architect Robert Macon's contributions in the Rochester area. A gifted designer and leader in the architectural community, Macon is remembered for his civic contributions and transformative projects that spanned a 30-year career in the city that he loved.
Nominations for this award recognize projects that demonstrate Design Excellence and contribute to enriching the public realm. Nominations were judged according to the following criteria:
Excellence in a building or structure that has solved a design problem in a distinctive way;
Extent to which the completed project demonstrates enduring and notable design;
Ability to integrate that undertaking into a community's context and extent to which it contributes to or benefits the public realm.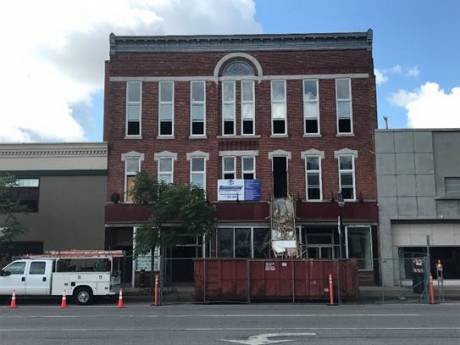 109-111 Main St., Batavia, location of Newberry Place – freshLAB
Project Award Nomination 
Newberry Place--freshLAB is a locally led $2.8 million three-story downtown mixed-use building renovation to deliver a 10,000-square-foot, ground-floor restaurant incubator housing three start-up eateries and upper floor apartments.
The Main Street food hall project has overcome design and infrastructure challenges, warranted State and Federal historic designation along with significant investment and grant partners to underwrite success.
Guided by Preservation Studios and TRM Architecture, the project was thoughtfully approached to preserve the building's historic character in which the first national retailer, JJ Newberry, settled in Batavia. JJ Newberry wall medallions, Art Deco aluminum counter trim, office doors, hallways, beadboard and chain-link milk glass dome fixtures have been incorporated into the new design.
As expected, modifications also ensued when the century-old walls and floors revealed structural challenges. Relocation of bathrooms, kitchen ventilation hoods and floorplans were flipped to accommodate.
Meanwhile, the intended use as a foodhall with a micro-brewery anchor tenant took perseverance to advance. A simple farm brewery concept evolved into a restaurant incubator intended to keep millions of dining and entertainment dollars local to reduce spending leakage from Genesee County each year.
Local leadership coalesced an infrastructure for restaurateurs to advance a concept, write a business plan and open a new restaurant in this shared space under supervision of industry experts.
However, New York State Liquor Authority does not allow multi-tenants to occupy one space. After months of inquiries and legal fees, learning of "concessionaire" was key to authorizing Batavia Brewing Co. dba Eli Fish Brewing Co. the primary license to brew and sell alcohol on premise.
Two additional "concessionaires" are allowed to share seating, an indoor bocce court and tasting room whereby all alcohol must be purchased at the anchor tenant. The food-hall incubator is anticipated to launch five new businesses in five years, create 30 jobs and generate thousands of tax dollars.
While bumping into walls was expected, the floor integrity, lack of power in downtown and limited capacity gas lines had to be doggedly overcome.
The heavyweight brewing equipment was placed onto the basement floor, a hole was cut through the first floor to allow the tanks to peek through serving as a foodhall feature. A tasting room was fashioned above to overlook the tank farm.
Even though the City of Batavia underwent a substantial Main Street reconstruction less than a decade earlier, adequate electric power was not available and low pressure gas lines were underground. Fortunately, the property boundary extended eight feet to the rear of the building, which enabled a new transformer pole installation.
Yet, that triggered a NYS building code exception request since the outdoor space would no longer allow the fire stair descent; other fire safety measures were emphasized.
Commercial kitchens and upper-floor apartments were reequipped due to lack of available gas. The gas company is now considering infrastructure upgrades due to the existing demand and recognizing more than 40,000 square feet of vacant space remains on the City block.
Committed to transform downtown, Matthew Gray exudes patience as the concept leader, building investor and volunteer mentor drawing from his decades of restaurant ownership.
Upon purchasing the building, the first floor was divided into three different areas, each with their own cobbled, inefficient and potentially unsafe HVAC systems. These systems were completely removed to allow installation of new energy efficient heating and cooling equipment suited specifically for the new use of the building.
Arctic Refrigeration Company of Batavia completely designed, sourced and installed the HVAC and mechanical systems in the building. The brewery received three 10-ton rooftop heating and cooling units. This equipment was designed and selected with the brewery and restaurant in mind. They can operate independently, each unit with two-stage heating and cooling. This allows for energy savings by using partial capacity of the equipment as heating and cooling requirements constantly change. 
The HVAC system was also designed to work in conjunction with the multiple kitchen exhaust systems. By balancing the airflow between the six exhaust fans, two tempered makeup air units and the HVAC units, comfort levels and energy efficiency will be at their peak performance.
The brewery's chiller is also placed on the roof, allowing the chiller to remove the heat from the brewery process and discharge it outside the building. This design kept the HVAC systems from being overloaded or oversized if the heat were to be discharged indoors, again using energy efficiency wherever possible.
Project Participants:
Matthew Gray, building owner, lead investor, co-owner Batavia Brewing Co. dba Eli Fish Brewing Co. and freshLAB restaurant mentor, Batavia
Jon Mager, co-owner Batavia Brewing Co. dba Eli Fish Brewing Co., Batavia
TRM Architecture, Matthew Moscati, Buffalo
Preservation Studios, Mike Puma, Buffalo
Thomson Builds, Paul Thompson general contractor, Churchville
Batavia Development Corporation, freshLAB partner and project grant coordinator, Batavia
City of Batavia, micro-enterprise grant and real property tax abatement, Batavia
NYS Homes & Community Renewal, NY Main Street Anchor Project & Micro-enterprise Program Funds, Albany
USDA Rural Development, Equipment Grant, Batavia
National Grid, Main Street Revitalization Grant, Buffalo
Empire State Development, startup micro-brewery incentive, Buffalo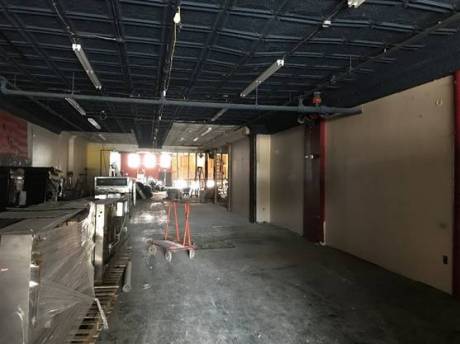 BEFORE: Single tenant space represents half of the ground floor, center wall later removed to use10,000 square feet on ground floor as open, shared dining food hall.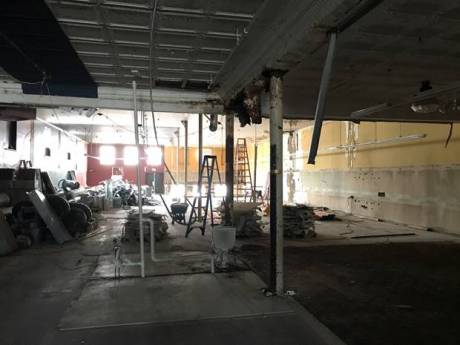 Center wall removed to open entire 10,000-square-foot ground floor space, looking south.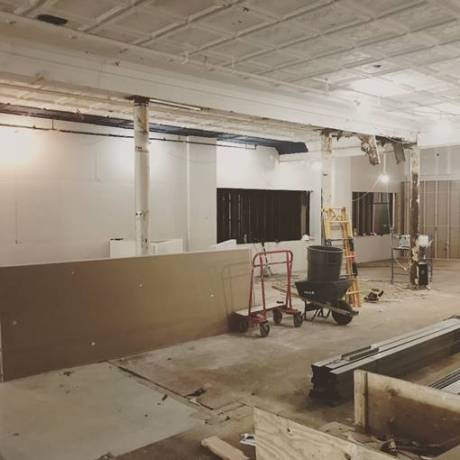 AFTER: Concessionaire walk-up service with dedicated cold and dry storage for each startup restaurant.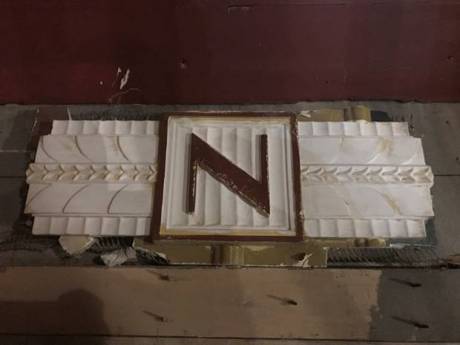 JJ Newberry wall medallions preserved and incorporated in new design.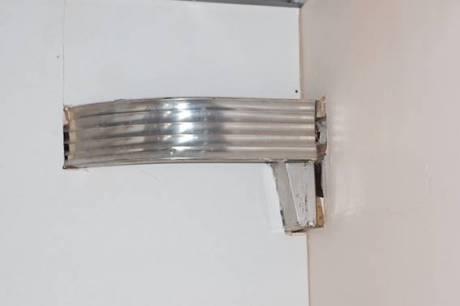 Art Deco aluminum trim to peek through drywall.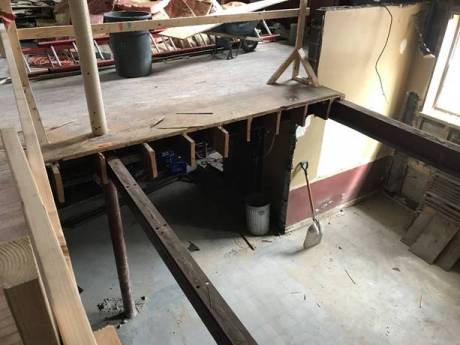 "Brew Hole" to set heavy brewing equipment on the basement floor, tanks will rise above the first-floor level.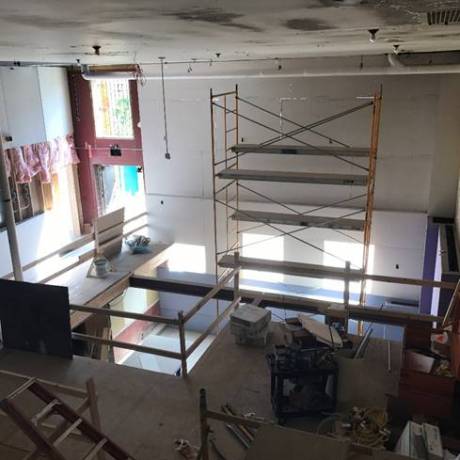 Tasting room hovers over "Brew Hole."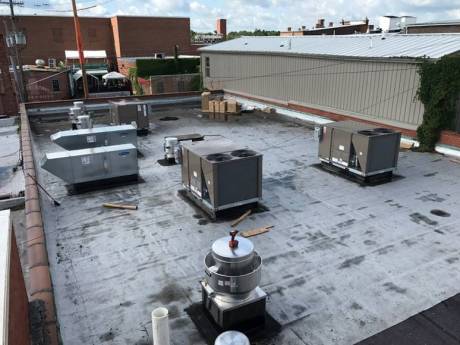 Arctic Refrigeration Company of Batavia completely designed, sourced and installed the HVAC and mechanical systems in the building.