January 9, 2016 - 7:09pm
Pedestrian struck by black pickup truck at Bank and Main downtown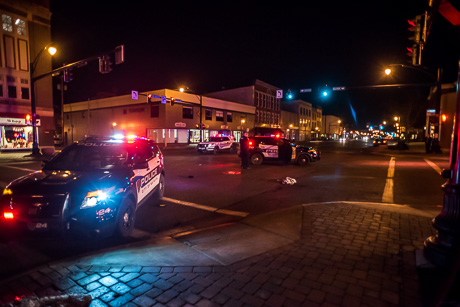 A pedestrian was reportedly struck by a black pickup truck at the intersection of Bank and Main streets in Downtown Batavia a few minutes ago. The truck then reportedly went into the JC Penney parking lot at the mall before leaving there and turning left onto Washington Avenue. City fire, police and medics are responding.
UPDATE 7:15 p.m.: The pickup driver did not flee the scene, rather drove to a safe location nearby. A Mercy medic happened to get on scene soonest and said the patient was transported to a hospital before a determination was made as to medical condition.
UPDATE Sunday morning: The pedestrian succumbed to his injuries. The victim is identified as Joseph W. Ogozaly, 58, of Batavia. Following the accident, the patient was transported by Mercy EMS to a Mercy Flight landing zone and transported to Strong Memorial Hospital. He was pronounced dead at the hospital. The investigation is ongoing and no charges against the driver have been placed at this time.
January 10, 2016 - 8:30am
#2
Out of traffic. The main thing we were trying to communicate is that he didn't flee the scene. He was talking with police while I was there.