May 14, 2019 - 4:13pm
Rotary Club of Batavia celebrated centennial Friday at Batavia Downs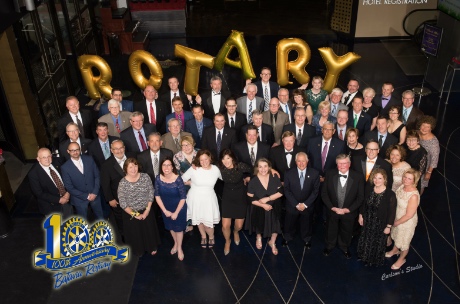 Rotary Club of Batavia group photo by Kevin Carlson of Carlson's Studio.
Submitted photos and press release:
The Rotary Club of Batavia is celebrating its 100th anniversary and to mark its centennial, the club hosted a gala at Batavia Downs on Friday, May 10, to celebrate its accomplishments and energize for more projects that benefit the community.  
As an organization designed to instill values of community service and professional development, Rotary was founded in 1905 in Chicago. In 1919 the Batavia Rotary Club was chartered with 25 members who pledged to the organization's motto of "Service above Self." 
Now, 100 years later, that commitment remains strong.  The 75 men and women of Batavia Rotary seek to serve others through local community projects and international partnerships.
Rotarians are committed to service, and we're not afraid to dream big and set bold goals, said Laurie Mastin, the current president.
Locally, the Batavia Rotary has contributed more than $700,000 to charitable causes in the Genesee community in the last 20 years. Additionally, it provides $18,000 in scholarships to local college students each year.
On a worldwide scale, Rotary began a fight against polio in 1979 and has reduced that crippling disease to only two countries -- down from 125 in 1988. And we won't stop until we're done and polio is eradicated. Batavia Rotary continues to financially support that campaign and has contributed more than $150,000 over the years to eliminate polio from the Earth. 
In the words of Paul Harris, the founder of Rotary, "We believe we can change the world one life at a time."
Photos below by Paul Figlow for Figlow Productions.