May 8, 2019 - 5:21pm
Save the date: 'The Rocky Horror Picture Show' to be performed at GCC Oct. 17-20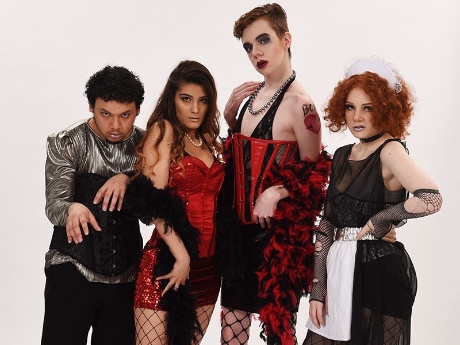 Above, GCC students channel "The Rocky Horror Picture Show" while posing in costume in a special scene called "Camp" during last weekend's Fashion Show.
Submitted photo and press release:
The Forum Players Theatre Company at Genesee Community College just announced their first and biggest show of the 2019-2020 season.
"It's just a jump to left, and then a step to the ri-i-right…Let's do the time warp again!" This is one of many songs that will be emblazed upon your brain after seeing Richard O'Brien's "The Rocky Horror Picture Show," coming to GCC, courtesy of Samuel French Inc., Oct. 17 - 20.
Tickets for "The Rocky Horror Picture Show" will go on sale this summer.
This performance will take full advantage of all the high-tech sound and lighting equipment at the state-of-the-art Stuart Steiner Theatre. In addition, the full scene and costume shops will offer dynamic sets, clothing and the outlandish regalia that Rocky Horror fans look for.
The talented and enthusiastic theatre department is already busily preparing for this performance, which will set the tone for a new season of great theater, as well as a few Halloween celebrations, in late October.
"With a piece as dramatic and fun as the 'Rocky Horror Show', our students will combine their vocal talents, acting and dancing skills and technical skills, along with their innate theatrical enthusiasm, to bring the eccentric Rocky Horror characters to life," said Brodie McPherson, director of the show and also GCC's instructor of theater technology.
"Some crew members are already hard at work planning the special effects required for this production. Without giving away any of their surprises, this promises to be an interactive, exciting, fun performance that will be truly engaging for everyone. Save the date, indeed."
"The Rocky Horror Picture Show" will feature members of the community, GCC students of all majors, alumni, faculty, and staff, both on stage (as you've never seen them before!) and behind the curtain.
GCC's Fashion Program students alluded to the production including a special scene in the 38th annual Fashion Show last weekend called "Camp," (above photo) which was coordinated by theater student Alannah Gross and styled by Theater Arts and Theater Technology students. The scene featured adjunct dance instructor Tara Pocock and student models representing some of the iconic characters in full makeup and costume.