April 23, 2015 - 7:28am
School bus minivan and semi-truck collision shuts down eastbound Route 33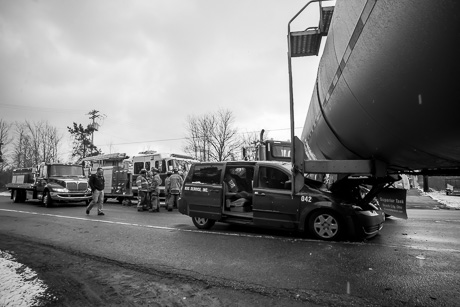 A tractor-trailer vs. school bus minivan accident is reported at 2300 Genesee St., Pembroke. One child is onboard the minivan. They are reporting no injuries, but the minivan is underneath the tractor-trailer and the occupants are pinned inside. The East Pembroke fire chief on scene says the tractor-trailer is blocking traffic. The location is between Angling and Read roads. Corfu Fire Police are called for traffic control at Route 33 and Angling Road. Eastbound traffic will be shut down.
UPDATE 7:32 a.m.: A family member, possibly the child's parent, is at the scene.
UPDATE 8:10 a.m.: Fire Police remain on scene but other responders are back in service. The road will be reopened shortly.
UPDATE 8:11 a.m.: The door of the minivan was jammed shut but firefighters got it unstuck quickly once they arrived, and the child was picked up by a family member.
UPDATE 8:30 a.m.: Photos added. The milk truck was backing into a dairy farm. The driver of the van reportedly told deputies he didn't see the truck. One or both drivers may be cited, pending conclusion of the investigation. There were no injuries.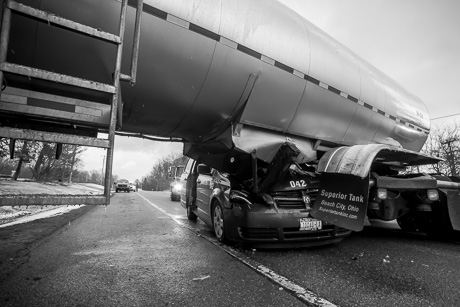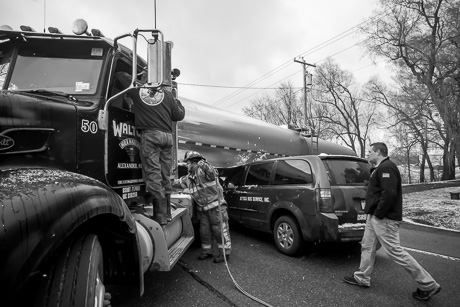 April 24, 2015 - 8:31am
#4
Judging from the pictures the tractor tanker was making a left, and from the distance the cab is onto the intersecting road, there is no way the minivan driver did not see that and should have stopped. Obviously the minivan driver doesn't realize those big rigs are not going more than 15 MPH from a dead stop, and the truck driver was probably in 3rd gear by the time the crash happened.
Hopefully the truck driver is not cited, but the minivan driver is.