September 10, 2013 - 2:12pm
Two big trucks collide at Route 262 and Norton Road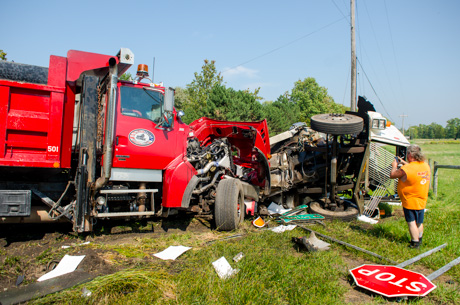 Two large trucks have collided at Route 262 and Norton Road in Elba. Callers to dispatch indicate the drivers may be out of the vehicles and that injuries may be minor. But there are conflicting reports. Elba fire and Mercy medics are responding. Mercy Flight in Batavia is on ground standby. A semi and a dump truck are thought to be involved. There is a significant amount of debris in the roadway as well as some spilt fuel or other hazardous materials.
UPDATE 2:15 p.m.: A responder on scene reports the people involved are OK but may have minor injuries. Medics are told to continue. Mercy Flight's standby is cancelled. The spilt fuel is believed to be from the "saddle tanks" on the truck(s) and not from any cargo. The county HAZMAT team is on standby for now.
UPDATE 2:16 p.m.: A fill-in out of Barre's fire hall is requested for Elba. It is confirmed that the collision is a semi-truck vs. dump truck.
UPDATE 2:19 p.m.: One lane of traffic on Route 262 (Ford Road) is completely blocked. Believe it's the eastbound lane. State Troopers request HAZMAT to the scene.
UPDATE 2:33 p.m.: Additional fire police out of Byron are called.
UPDATE 2:25 p.m.: The Department of Environmental Protection is being contacted about the spill of 50-plus gallons of diesel fuel, which is said to be soaking into the ground. Meanwhile, Elba Town Highway Department is asked to bring in a truckload of sand to absorb the spill as best as possible for now. They are going to shut off traffic at Old Ford Road by Andy's Pizza.
UPDATE 2:28 p.m.: Mercy medics are back in service and report the two drivers involved are sign-offs.
UPDATE 2:31 p.m.: Command reports there's a lot of Speedy Dry on the ground and confirms Elba Town Highway is on its way with sand. The fuel is "held up in a ditch, but some is going into the ground, a cow pasture with an electric fence."
UPDATE 2:35 p.m.: Oakfield fire police are called and the Elba School District has been informed of traffic issues.
UPDATE 2:50 p.m.: Traffic police are shutting down Route 262 at Transit Road.
UPDATE 3:02 p.m.: Command calls for two ambulances, non-emergency. One for a truck driver involved in the incident, who previously declined medical aid, and another for a firefighter suffering from possible heat exhaustion.
UPDATE 3:12 p.m.: Authorities updated the spill information to say that one truck contained 40-plus gallons of diesel fuel, and the actual amount that leaked out is not yet known. They need to untangle the vehicles to make a better determination. The other vehicle's fuel tank did not rupture. The auxiliary is called to bring in refreshments this hot and windy afternoon.
UPDATE 4:02 p.m.: After pulling apart the mangled wreckage, they determined a little while ago that indeed one truck spilt roughly 40 gallons of diesel fuel and the other's fuel tank is still intact. Fire police have shut down Edgerton and Norton roads. One of the truck drivers was taken to UMMC for evaluation.
UPDATE 4:24 p.m.: A responder reports that one lane of Route 262 will be reopened but Norton will remain closed for awhile.
UPDATE 4:58 p.m.: Both lanes of Route 262 will be open until a tow truck for one of the vehicles arrrives.
UPDATE 5:16 p.m.: The Elba assignment is back in service. All roads are being reopened.
UPDATE 5:50 p.m.: According to the initial investigation, said Trooper Holly Hanssel, the driver of the white farm truck allegedly failed to yield at the intersection. The farm truck was southbound. It T-boned the Town of Bergen truck. Both drivers were shaken up, but neither was injured.
"The driver of white truck definately whould have been injured if he didn't have his seat belt on," Hanssel said. "They were both seat-belted in and I think that has a lot do with why there are no injuries."
About 25 to 30 gallons of fuel were spilled. About 10 minutes ago, Hanssell cleared the scene and informed dispatch that the spill issue appears to be taken care of but that DEC will double check in the morning.