September 4, 2014 - 4:20pm
Van rollover, unknown injuries, on eastbound Thruway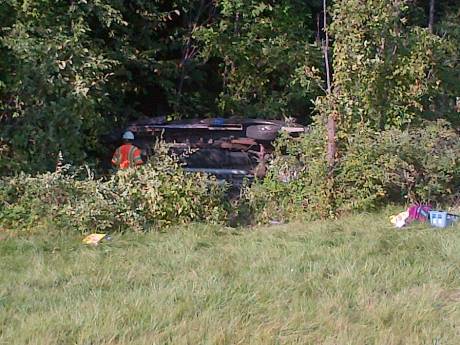 A van rolled over into the median of the eastbound Thruway at mile marker 399.7. Unknown injuries. Pembroke and Indian Falls fire departments and Mercy medics are responding.
UPDATE 4:21 p.m.: A person on scene reports two people are trapped inside the vehicle.
UPDATE 4:24 p.m.: One person is unconscious. Mercy Flight is put on ground standby.
UPDATE 4:30 p.m.: Mercy Flight 5 out of Batavia is going to the scene. East Pembroke fire is called in to provide mutual aid.
UPDATE 4:39 p.m.: One helicopter has landed. Mercy Flight 9 out of Buffalo is also responding to the scene. One of the two victims is a 30-year-old male with "multiple trauma."
UPDATE 5:27 p.m.: The NYS Thruway Authority has denied The Batavian's request for access to the scene. Anyone with pictures of the scene is requested to e-mail the jpeg images to [email protected]
UPDATE 5:43 p.m.: According to Alecia Kaus of the Video News Service, State Police have confirmed that one person died at the scene and another was transported with serious injuries via Mercy Flight to ECMC.
UPDATE: State Police photo. The driver is identified as Jacqueline J. Hayes of Plover, Wis., who was declared dead at the scene. Passenger Richard R. Hayes was flown to Erie County Medical Center by Mercy Flight. He is listed in critical condition.