October 13, 2009 - 10:50pm
Construction woes on Randall Road
I'm sure you've heard the joke that in Western New York there are only two seasons - winter and construction. Around this time of year, the road work wraps up and we are able to enjoy the results of our paid taxes. Unfortunately, not all taxpayers are pleased.
This was the first topic of discussion at the LeRoy Town Board meeting Thursday night. Randall Road resident Paul Mooney brought attention to concerns he had about the work done in his and his neighbors' front yards.
"They did the water project out there much to the dissatisfaction of almost all of the folks on that short strip," he complained.
"I think my driveway is the biggest problem that I have. Installing the pipe along the road required that the construction company dig up a good portion of residents' lawns and driveways to complete the project. When they finished, the way they repaired the lawns and driveways were not up to everyone's standards.
Mooney was left asking, "...where do we go from here?" The board assured him that they would have the work reviewed again, but other residents have taken repairs into their own hands. Another Randall Road resident spent over $1,000 of her own money to have her damaged driveway repaired to its pre-construction condition.
While the building process was a temporary nuisance, the scars are here to stay. The driveways show apparent damage that no homeowner wouldn't appreciate. When does improvement become damage?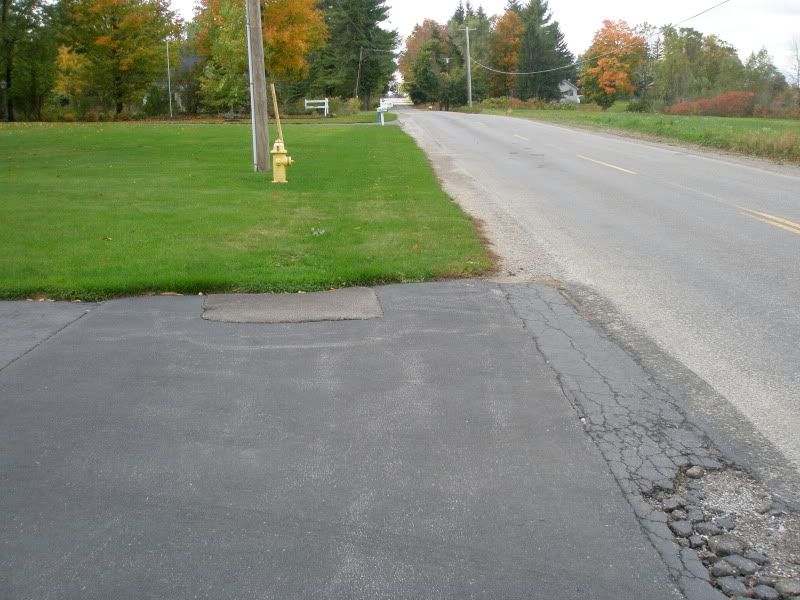 This driveway shows a wide strip that was taken out along with a concrete patch placed there to repair damage. There are no plans to bring the property back to its original state.
NOTE: Randall Road is a county road and the construction was carried out with the Genesee County Highway Department, not the Town of LeRoy Highway Department.