May 22, 2014 - 7:35am
Duo joins ranks of small business owners with new printing company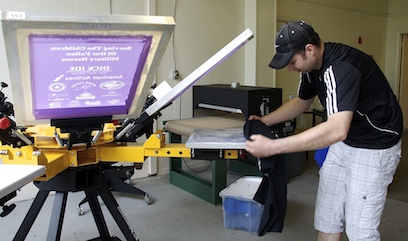 Trading in a dusty, cramped attic space for an open-windowed, well-lit studio was like free falling into the unknown for Jim Woodhams and Michael VanBuskirk -- as exciting as it was fearsome.
Woodhams is leaving a custodial position after nine years of service with the Spencerport School District; while VanBuskirk is leaving a laborer's position in the Batavia area. The pair are owners of JC Printing Company and recently relocated their business to the third floor of the industrial complex located at 56 Harvester Ave.
"The attic space became too small to accommodate the inventory and equipment necessary to expand the business," Woodhams said.
Consequently, when VanBuskirk signed on he began looking into spaces to rent that would allow JC Printing Company to grow their business and have more of a presence downtown.
"I got into this business about a year ago," VanBuskirk said. "It sounded exciting. It was something that interested me."
On the other hand, Woodhams had taken a course on screen printing back in high school and enjoyed the class so much that he decided in 2009 to pursue it as a side job.
"The first heat press I bought is akin to an industrial iron," he said.
From silk screening to embroidery on T-shirts, hats and other apparel; to foil wrap and photo prints on items such as, candles, coffee mugs or plates -- as well as other items -- are all produced in their new space.
"We don't outsource any of our work," said Woodhams, who graduated from Fairport High School. "We do all of our work on site. If we can't do something, we will be honest about it." 
Consequently, the printing company is making an effort to partner with other companies that have the capabilities JC Printing Company does not have at this time. For example, they have had several requests for paper goods -- letterhead, business cards -- however, they are not set up for paper production.
"Pencils are our biggest sellers right now," Woodhams said. "We are still using vintage machines of the '30s. I purchased my machine from Guthrie Thomas -- a well-renowned artist of custom made guitar picks."
Although the editorial process may be time consuming, turnaround time for merchandise is about two weeks for large orders; while some individual orders can be finished in about 20 minutes to an hour.
The process begins with an image, idea or concept the customer has in mind, followed by prepping or "cleaning up" the artwork. Once the artwork and design are approved, the next step is completely dependent on what the customer orders. For shirts, hats and the like, the design is then printed on a clear sheet that is put into a machine to transfer the image onto a screen.
Quality, pricing, efficiency and up-to-date processes are key in the work VanBuskirk and Woodhams produce. The storefront enables the owners to do minimum orders that will cater to the individual who walks in off the street as well as schools, corporations, hospitals, construction companies and more that pre-order merchandise.
"We want to please our customer. When you walk out the door with your purchase, we want you to be happy with the product," VanBuskirk said. "Reliability -- we deliver on time. We listen to our customers. Communication is essential."
Realizing that advertising is part of the formula for success, tried both the traditional and the most current methods of advertising; according to Woodhams, their greatest success has been word of mouth and creating a catalogue.
"Someone had once told me that catalogues were a poor choice for advertising. For us, it was the best marketing decision we made."
According to Woodhams, this venture entire is a huge leap. "I am leaving a job that I have held for the past nine years. It's kinda scary."
Pricing and other information can be found by visiting www.JCPrintingCompany.com, or find them on Facebook at www.facebook.com/jcprintingcompany. They can also be reached via phone at 800-918-2701 or e-mail at [email protected].
The Grand Opening of JC Printing Company is Saturday, May 24, all day. The first dozen customers who place an order will receive a free gift.
CORRECTIONS: Our reporter was never informed there was another partner in the business. Her name is Carrie Farley. Also, our reporter was given the wrong grand opening date.  See comment below.
Congratulations, guys and I wish you all the best. It's a big, scary step to quit your jobs and forge forward on your own. I know.
May the force be with you!
I just wanted to post a correction: JC Printing Company's grand opening was actually yesterday (Friday, May 23rd). Anyone wanting to stop by, we will be open normal hours 9am-5pm starting Tuesday, May 27th. I want to thank everyone who came out and showed support at our grand opening yesterday. It was a very successful turn out!