November 6, 2018 - 12:45pm
WBTA's Jerry Warner remembered for his warm voice, hearty laugh and good interviews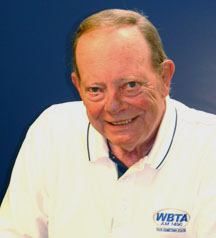 Over his 30 years on WBTA, in hosting "Main and Center," broadcaster Jerry Warner talked to hundreds of members of the Genesee County community and a few of them recalled Warner yesterday after learning of his passing Sunday night.
"It was always a joy to go over there and do the show with him because he was so easy to talk to," said Tom Turnbull, president of the Genesee County Chamber of Commerce. "Even on air, it felt like you're sitting around and talking in your living room with somebody. He always had this kind and gentle and calming influence when you were talking to them. It made it easy to be on his show."
Warner was born Feb. 9, 1943, in Batavia and was a lifelong resident of Oakfield. He started his radio career in 1971 with WBTA. He left the hometown station for a short time to work at WEZO in Rochester, where he created the city's number one morning show.
When he returned to WBTA he became the station's morning personality and host of "Main and Center," a talk show that featured a local guest talking about local events and issues.
"I really enjoyed speaking with Jerry and doing his interviews," said Jason Molino, Batavia's former city manager. "You know he was always extraordinarily professional. He was very classy. He was kind of part of an old guard. (We had) many laughs many times. I think the legacy of a memory of Jerry as just being kind and sweet but also asking good questions, and I think he was genuinely interested in the topics we discussed, so it's something I'll always miss about Jerry."
Another frequent guest was Jay Gsell, county manager, who said Warner was always ready to talk about the issues of the day.
"Coming in on Thursday, the way we have been, and how warm and accommodating Jerry was, but also the fact that he really took the time to know what we were doing, to understand that and be able to conduct an effective and cogent interview was always what impressed me about him," Gsell said.
For Chief Deputy Jerome Brewster of the Sheriff's Office and also an Oakfield native, Warner was always the voice of his hometown. He remembers being out and about, perhaps at the dentist office and hearing Warner's voice and feeling like he was hearing home.
"I was very saddened to learn that he had become ill and in particular distressed when I read this weekend that he had gone down to hospice," Brewster said. "He was a great man. He had a wonderful voice. He had an infectious laugh and he didn't take himself seriously. He's going to be sadly missed."
Molino recalled a laugh he got listening to Warner's program one morning about eight years ago. It was the Monday after Summer in the City and Molino had volunteered a session in the dunk tank as part of a fundraiser. The City Council president at the time, Charlie Mallow, came along determined to dunk Molino. He spent about $20 on softballs and missed every toss.
"Sure enough, the next morning, I was listening to WBTA and I heard Jerry on the air talking about Summer in the City and trying to generate revenue and some funds for charity," Molino said. "And sure enough he goes on to say 'and the council president was trying to sink the city manager in the dunk tank and he just couldn't do it. He needed some bigger balls in order to do that.' And that's one of the fondest memories I have of Jerry."
Warner and his wife, Darlene, celebrated their 53rd wedding anniversary in August. He was a former member of the Oakfield Presbyterian Church and served with the United States National Guard.
Calling hours are Thursday from 3 to 7 p.m. at the Burdett & Sanford Funeral Home, 11 Maple Ave., Oakfield, where services will be held Friday at 10 a.m.  Jerry will be lain to rest in Cary Cemetery, Oakfield.
For Jerry Warner's full obituary, click here.
November 6, 2018 - 1:41pm
#1
So sorry to hear of Jerry's passing. He was a class act and a credit to his profession. My condolences to his wife, Darlene, and family.