May 13, 2019 - 7:56pm
Fatal accident on Route 19, Le Roy, at North Street Road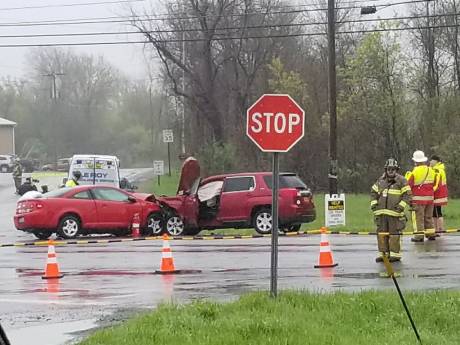 A woman has reportedly died following a head-on collision on Route 19 at North Street Road, Le Roy.
According to Chief Deputy Brian Frieday, a vehicle was southbound on Route 19 when it slowed to make a left turn on North Street Road. Another vehicle behind that car tried to pass on the west shoulder and that driver apparently lost control of her car causing it to cross back across the southbound lane and into the northbound lane where it struck a northbound SUV.
The driver of the car that was attempting the southbound pass was pronounced dead at the scene.
The driver of the SUV was transported to Strong with non-life-threatening injuries.
The name of the victim has not been released pending family notifications.
The accident is still under investigation.
Le Roy fire and Le Roy ambulance responded to the scene and Route 19 was closed between Seldon Road and West Bergen Road. (At the intersection of the fatality, Randall Road is west of Route 19; and across Route 19 to the east, the same roadway becomes North Street Road.)
UPDATE: The Sheriff's Office reports that Bonnie B. Dean, 77, of Churchville, died as a result of the crash. The other driver was identified as Penne M. Vincent, 56, of Fairport. Vincent was transported to Strong Memorial Hospital for treatment of her injuries. Dean was driving a 2008 Chevy Cobalt. Vincent was driving a 2013 GMC Terrain. According to the press release, Dean attempted to pass an uninvolved vehicle on the right, on the west shoulder and was unable to maintain control of the vehicle, causing it to cross into the northbound lane. The cause of the crash is under investigation by Chief Deputy Brian Frieday, Sgt. Andrew Hale, Sgt. James Deihl, Sgt. Jason Saile, Deputy Richard Schildwaster, Deputy Mat Clor, and Deputy Travis Demuth. Assisting at the scene were Le Roy Detective John Condidorio, and officers Gregory Kellogg and Stephen Cappotelli as well as Le Roy fire, Le Roy ambulance, and Mercy EMS.
Alecia Kaus/Video News Service contributed to this story. Photos by Alecia Kaus.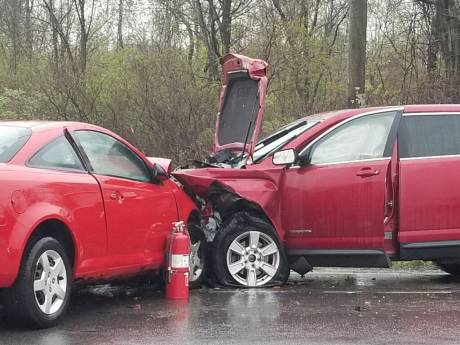 May 14, 2019 - 10:09am
#1
This is at North Street road. North road is about 2 miles north by the Thruway.