March 1, 2022 - 5:14pm
Village of Elba's welcome sign cut down, stolen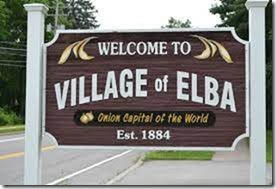 The Village of Elba's welcome sign proudly proclaims, "Onion Capital of the World."
Somebody apparently thinks that would make a fine item to own for themselves.
Recently, somebody cut down and stole the sign.
Until about 2013, the sign is well known for its phrase, "POP: Just Right."  That was changed because it didn't seem welcoming to some people.
Mayor Norm Itjen asks that anyone with information contact the Genesee County Sheriff's office at (585) 345-3000 or the VIllage of Elba @ (585) 757-6889.
Photo by provided by Norm Itjen.
March 2, 2022 - 1:46pm
#1
Know there is whole butt load of issues in the world and this isn't a top one, yet this still makes me sad. Wonder when someone noticed it was gone.