September 7, 2011 - 9:14pm
Sponsored Post: Weekly NFL challenge sponsored by Main St. Pizza Company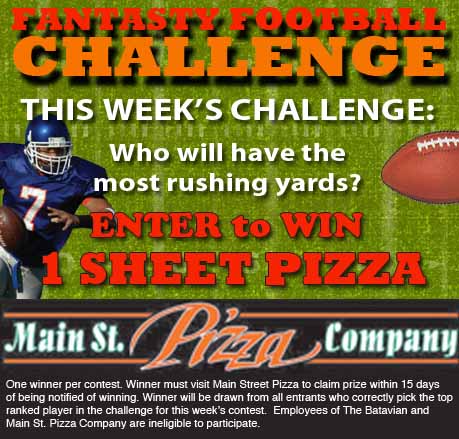 Notes: A few weeks ago, Vic Marchese, owner of Main St. Pizza Company mentioned to me, almost offhand, that he thought it would be fun to sponsor a fantasy football contest for the 2011 NFL season. As it so happened, just of that very day, I had available the tools to make it happen. So here you go, a weekly football challenge sponsored by Main St. Pizza Company.
Each week, you will be asked to pick an NFL player who will lead the league in an offensive or defensive statistical category. All of the entrants who pick the correct player will be entered into a drawing to win that week's prize. This week, for example, is a sheet pizza from Main St. Pizza Company.
Each Tuesday we'll post who won the previous week's contest and the new challenge question.
Click the ad above to enter the contest.
September 8, 2011 - 9:39am
#1
I was able to register but It wont let me pick. It keeps timing out. I spent 38 minutes on it so far .
:(