April 17, 2012 - 2:58pm
BREAKING: Alleged bookies charged under NYS organized crime statute
posted by
Howard B. Owens
in
crime
.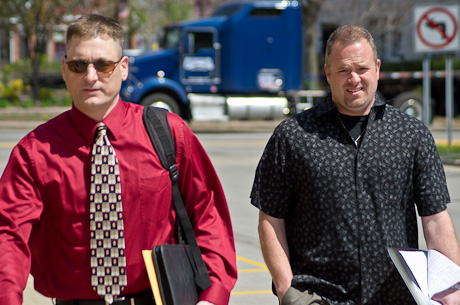 Three men accused of illegally accepting bets, including two city firefighters, are being charged under NYS law of racketeering.
The "enterprise corruption" statute is similar to the federal RICO (Racketeer Influenced and Corrupt Organizations Act) law.
The Class B non-violent felony carries a possible minimum sentence of one to three years in prison and a maximum eight-and-a-third to 25 years. Probation without prison is not a sentencing option.
Gregory Phillips, Brian Bordinaro, both city firefighters, and  Lance Engel, a chef at the Western New York Veterans Home, appeared in Batavia City Court today to answer to the new charges, which also included promoting gambling, a Class E felony.
All three men entered not guilty pleas.
"My client entered a plea of not guilty and we certainly stand by that plea," said Engle's attorney, Joseph LaTona, outside the courthouse after the proceedings.
Their cases were bound over until Oct. 23, giving the District Attorney's Office time to consider whether to seek a grand jury indictment or take another course of action -- such as a possible plea deal.
All three men are out of jail on their own recognizance.
In February, they were arrested following an investigation by the Local Drug Enforcement Task Force, and charged with criminal possession of gambling records, a Class E felony. Philips was also charged with criminal possession of a controlled substance, 7th, for allegedly possessing a small amount of cocaine.
Investigators claim the three men were conducting an illegal bookmaking operation that grossed more than $1 million in bets and generated more than $70,000 in profits. 
The trio's defense attorneys today were presented with what is known as "discovery" -- material that the DA believes substantiates the charges. In this case, each attorney walked out of the courtroom with paperwork nearly six inches high.
The material represented, according to Sgt. Steve Mullen of the Genesee County Sheriff's Office, the fruits of his team's investigation, including phone records, text messages and other records collected so far.
There are still computer and mobile photo data to be compiled and analyzed, Mullen said, and any new evidence uncovered could potentially be turned over to District Attorney Lawrence Friedman, who could consider additional charges.
According to article 460 of the NYS penal law, a person is guilty of enterprise corruption when the person has knowledge of a criminal enterprise, participates in and has an interest in (as in ownership) of that criminal enterprise and is guilty of at least two other felonies (not including conspiracy) associated with the criminal enterprise.
One of the key elements in a case like this that sets an illegal gambling operation apart from legal forms of gambling in New York is that bookmakers often extend credit to their customers, Mullen said.
"If you go to the Downs or buy lottery tickets, you're spending money you have in your pocket," Mullen said. "It can still effect your family in adverse ways by spending money that is dedicated, or could be better dedicated, to other necessities in the home. In (a bookmaking) case, you're able to gamble and continue to gambling without having the money in your pocket.
"From what the records (in this case) show," Mullen added, "there are people who ended up thousands and thousands of dollars in debt."
Mullen acknowledged that there are people in the community who don't think the bookmaking laws should be enforced, but it's not his job to change the law, just enforce it.
"Certainly, if these guys did profit in excess of $70,000, like it's alleged, then it means there's some people who are out of a substantial sum of money," Mullen said.
PHOTOS: Top, Phillips and Engle arriving at the courthouse; inset, Mullen; below, LaTona holding an armload of "discovery" and very bottom, Phillips leaving court with his attorney.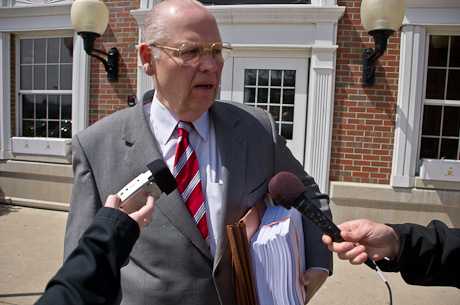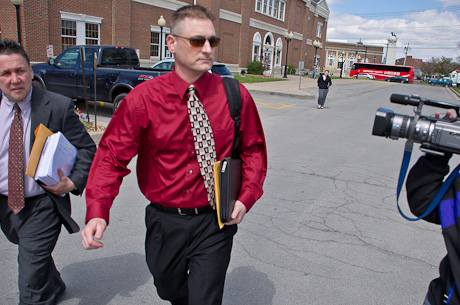 April 17, 2012 - 3:40pm
#3
That is NYS for you, betting isn't illegal BUT it is illegal to take a bet and make money on it! This is RIDICULOUS!!!! Talk about blowing something out of proportion....