January 5, 2013 - 8:57pm
Pedestrian struck by car at West Main and North Lyon, serious injuries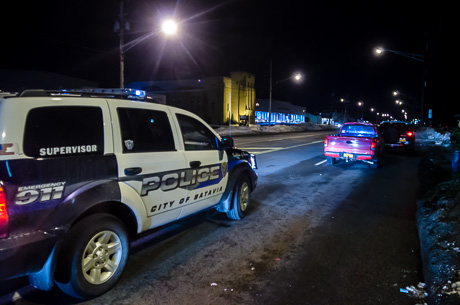 A pedestrian has serious injuries after being struck by a car in front of the Castilone Chrysler dealership at the corner of West Main and North Lyon streets. City police, fire and Mercy medics are responding.
UPDATE 8:58 p.m.: Mercy Flight is on ground standby. Medics intend to take the victim via ambulance to the airport hangar for transport to a hospital. Traffic control is needed and westbound lanes are getting a little backed up.
UPDATE 9:11 p.m.: The victim is well en route to the Mercy Flight hangar. City Engine 11 is back in quarters.
UPDATE 10 p.m. (by Howard): According to Sgt. John Peck, the pedestrian was walking in the westbound lane of West Main Street. Another person out walking a dog tried to tell the pedestrian to get out of the street and onto the sidewalk, but the pedestrian, who appeared to be intoxicated, would not do it and even became belligerent. The driver of the red pickup never even saw the pedestrian until just before hitting him. No charges are anticipated. The pedestrian suffered a possible serious head injury and was unconscious when police first arrived on scene. The patient was conscious by the time he was transported by Mercy EMS. Peck said there appeared to be no issue with the snow that prevented the man from walking on the sidewalk.
UPDATE 10:58 p.m.: The pedestrian has been identified as Kevin G. Viehdeffer, 52, of Batavia. The driver has been identified as Ryan Gugel, 25, of Batavia. There are no charges pending against Gugel.
January 5, 2013 - 9:48pm
#2
I had to swerve to avoid a bicyclist in the roadway near Denny's on my way home from work Friday. During my travels in the city the past few days I noticed that there were several places where walking on the sidewalk was not an option. The sidewalks around the Senior Center / YMCA were terrible. Who is responsible for cleaning the sidewalks on Main St?