February 7, 2013 - 3:29pm
Woman accused of stealing money from charity raising money for cancer patient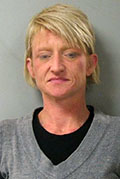 Five Star Bank has reimbursed $6,600 to Austin's Army -- a fundraising effort to assist a Pembroke teen struck with a rare form of cancer -- after a local woman allegedly made unauthorized withdrawals from the charitable account.
The alleged theft was discovered by Jason Heineman on Nov. 27.
Jodi M. Coe, 37, of Batavia Oakfield Townline Road, Oakfield, was arrested in connection with the alleged theft and charged with 41 counts of possessing a forged instrument.
According to court documents, Coe allegedly acquired blank checks, drafted the checks in her name and forged Jason Heineman's signature on the checks.
Heineman wrote in an affidavit that he never wrote checks to Coe out of the Austin Army's account and that she was never authorized to write checks to herself.
The checks were all allegedly cashed between Oct. 7 and Nov. 5, while Heineman was in New York City with his son, Austin, who was in NYC for surgery and treatment.
The bank balance discrepancy was discovered by Heineman when he visited a Five Star branch in Dansville and needed to transfer funds to another account.
Upon requesting an account summary, Heineman noticed checks being cashed out of sequence. 
When confronted with an accusation by Heineman, Coe allegedly said she had a problem and was in over her head.
Later she allegedly told Heineman that she had a gambling problem.
According to documents, Heineman gave Coe an opportunity to reimburse the account and when that allegedly did not happen by Dec. 5 he contacted the Sheriff's Office.
Coe faces 36 counts in Batavia City Court of possession of a forged instrument and another five counts in the Town of Le Roy.
She is jailed without bail.
If convicted, Coe would likely be required to pay restitution and that restitution would be paid to Five Star Bank.
Austin Heineman still has ongoing medical expenses and anybody wishing to make a donation can contact Five Star Bank.
February 8, 2013 - 10:19am
#2
Raymond,
I do understand your concern and doubts however.....
Let me clarify a few things. I headed up and handled Austins Army benefit back in May of 2012. It was a wonderful turnout and a great success. Our community, school district and friends did a great job. I was truely warmed by the generosity from everyone at such a trying time for this family. This was and still is a legit fund raiser and Austin Heineman does have a very serious, rare form of childhood cancer and continues to fight everyday for his life. It is very sad that the individual in this article took it upon herself to steal checks and write them to herself for her own gain. She was never entrusted to manage these funds ever. She had nothing to do with his account at all, ever. Austin's Army account is safe and thats the reason why this individual was arrested for stealing funds. It is a federal tax Id numbered account, specifically set up for his medical expenses.
Five Star Bank continues to handle this account and did a great job handling the situation. It is very unfair to classify this Fund Raiser with people falsely claiming to have cancer and accepting donations or someone being entrusted to handle the account and misusing the funds. This account is neither.
It is a very sad situation all around. What Jodi Coe did was wrong no doubt. She definently needs some help and all we can do is continue to pray for her and her children.
Austin continues on the fight for his life and is headed to Maryland next week to endure in extensive chemo to get him ready for his bone marrow transplant. Pray for him also.
I hope everyone continues to support Austin and Austin's Army. He is a great kid and as you can imagine his medical expenses are continuing to escalate.
Thank you to everyone that has helped along Austin's journey.
You can follow his progress on Facebook at http://www.facebook.com/AustinsArmy
Thank you
Renee Franclemont