March 5, 2013 - 1:14pm
Ken Mistler buys downtown theater with hope of keeping more entertainment dollars in Batavia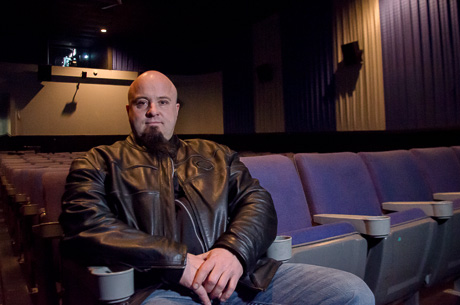 Downtown Batavia needs a theater, according to local businessman Ken Mistler, and when Dipson announced that its Batavia location needed to be sold or it would close, Mistler stepped in and bought it.
Now comes the hard work and expense of upgrading the two-screen movie house, and Mistler wants to know what moviegoers want from their local theater.
His number one question right now, he said, is what will bring people to Batavia Showtime?
Consultants for the City of Batavia reported last summer that some $31 million from Genesee County residents is spent annually in Buffalo and Rochester for entertainment and dining.
"I want to get them to bring some of that money back to Batavia," Mistler said. "I want to give them a reason to stay here."
First order of business is to start showing first-run films. He's also going to invest a substantial amount of money -- he doesn't know how much it will cost yet -- into upgrading to a digital projection system and dropping 35mm film. He also plans interior renovations and changes, but he's taking it one step at a time, he said.
Mistler owns City Slickers Restaurant and he said a downtown theater is important to the restaurant businesses downtown, not just his own.
People still like to go out for dinner and a movie, and if there is no movie theater in Batavia, people looking for a full evening of entertainment will just go elsewhere.
With local ownership, Mistler said, he thinks he can breathe new life into the former Dipson.
There are plenty of ideas for Mistler to look at for his theater, which could include special movie nights, special events for children, a small stage for comedians or small bands -- all of that -- Mistler said -- is on the table for discussion.
"It wasn't that this was a bad place, but the owners lived far away," Mistler said. "It was hard for them to watch and maintain it with the other theaters they had. I'm going to be on hand and we can do things the other owners wanted to do but couldn't do because they weren't here."
The theater remains open seven days a week as Mistler takes over management and begins making changes.
He said among his promotional ideas is to offer a package of a dinner from City Slickers and theater tickets. He said he would love to meet with any local restaurant owners who want to do the same thing or have other promotional ideas to tie the theater more closely with dining downtown.
"I need the feedback from the people," Mistler said. "I need to know what they want. I really do."
On Facebook: Batavia Showtime.
March 5, 2013 - 6:00pm
#13
But wouldn't it be a great idea for those that can't afford movies all the time? I mean does it always have to be about the big dollar and can't part of it be for those that might like to be able to do things they can't afford? When I first started out on my own or as a young married couple I would have loved a treat of a movie but my bills prevented it. I am sure that many seniors would love a dollar show to go to also.
The big money is going to be made on the weekends anyways and not during the day. Besides if you have others that come to town during the day for a movie they possible will shop and dine since they saved a few bucks at the show.
I think they deserve a chance to enjoy a movie theater also. Stating that they have to use non profits or the library is sort of sounding discriminatory to me, almost that because you are poor you don't deserve to enjoy a day out or to treat you kids.
Believe me, I have been to movies 10 a few times during the day and every theater there is packed during the specials, and I am sure the restaurants surrounding benefit from the lunch traffic from them.
I fully expect a large number of vote downs from this, but to push off those that don't have big money to spend is to me a pretty ignorant thought process that hurts a community more than it does help it.