August 7, 2013 - 11:11am
Derek Sheldon remembered with tears, laughter and duck calls
posted by
Howard B. Owens
in
bergen
.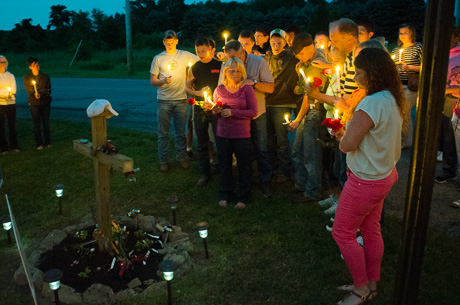 Derek Sheldon lived life wide open.
Among some friends, he was known as WFO (what the F means should be obvious).
In his 19 years, to hear his friends and family tell it, he lived more of life than many of us will live in 80.
He was a teller of tall tales who loved to hunt. He loved his red truck and red tractors ("if it's not red, it belongs he the shed"). He endured more than one trip to a hospital emergency room after one accident or another.
But he always came out smiling.
Sheldon was remembered Tuesday night during in a candlelight memorial at the intersection where he lost his life Sunday. He was remembered with tears, laughter and duck calls.
"Derek, we love you," the 150 or so friends and family yelled toward the heavens, candles held high, near the end of an hour of stories about his life's adventures.
"I've thought of texting him and telling him 'you don't know how many people are here who miss you so much and love you so much,' " said Amy Fagan, who recalled meeting him while ice skating in 7th grade.
"He was shorter and had braces and he asked everybody for my number," Fagan recalled. "We've been inseparable ever since."
His stepfather, Steve Lashbrook, said Derek was fearless with a gift for calling in geese and ducks and hitting his limit.
One winter day, Lashbrook recalled, he and others in his blind hadn't gotten their limit and Derek called him on his phone and said he had his, so Lashbrook told him to come over and help them out so they could get out of the cold weather.
Derek climbed in the blind and said, "Dude, I've got this. Go back to the truck."
Lashbrook didn't even get back to the truck before Derek had three kills.
There were other stories of Sheldon taking over the blinds of other people and quickly hitting the limit.
"He was lucky and he was good and that makes a hell of a combination," Lashbrook said. "Like I said, he had no fear. He had all the confidence in the world that he was going to get his birds every day. He didn't get his birds every day. Nobody does, but he did it more often than a lot of us. The kid had a gift. There's no doubt about it."
Derek was the kind of guy who was a better softball player in work boots than he was in baseball cleats, one friend said, or would strip down to his shorts on a winter day and cross a creek to retrieve a deer he had just killed.
Several people remembered the time he rolled his blue pickup truck. He wasn't seriously injured, but he still was taken to the emergency room.
When a friend arrived, Derek was smiling and said, "I need my phone. I'm looking for my phone."
"What, you need to get ahold of your family?"
"No, my family's here. I need to find a new diesel. I'm looking for a new diesel. That truck's totaled."
His hunting prowess was displayed both in his kills and in the tales he told.
His brother, Trevor remembers being out with him one time bow hunting and they were talking on radios. Neither had seen anything. Five minutes later, Derek radios, "I just killed a buck."
Trevor was incredulous. Five minutes ago, there was nothing, and now you're saying you killed a buck? "Yeah, dude, I put my radio down and looked down and there was this buck right under my stand. I put the radio down and picked up my bow and I shot him."
Sure enough, when Trevor came over to Derek's location, there was Derek cradling a big rack.
"Another time he asked me, 'how many did you see?'  I said, 'one or two,' and he said, 'I had this whole herd come right under my stand. There was like this 10-point and then this 12-point right next to him.' 'Why didn't you shoot? 'Well, that's the thing ...' and there was always a story."
"There was always a story," added his mother Karen Lashbrook.
Which brings us to the story of the woodchuck on Cockram Road.
Derek and some friends were out riding around in a red Neon when Derek spotted a woodchuck by the side of the road. He wanted to shoot it, and Trebor asked, "well, what's your plan." 
Derek wouldn't say, but Trevor said, "He always had a plan. He just wouldn't always tell you."
So they drive by and pull along side the woodchuck. Derek pulls out his gun and starts blasting. Bang, bang, bang.
Just then, the driver looks in the rear view mirror and there's a car behind them. "He's grabbing all the gears," Trevor says of the driver.
"I'm like, 'Derek, are you crazy?' He's like, 'I think I got him. Let's go back. I think I got him.' I was like, 'We've got to hide the Neon. We've got to get out of town.' I'm like, 'this is absurd. What are you thinking?' I had no idea what he was going to do. I said, 'you're crazy.' He was like, 'No, I know I killed it. We've got to go back.'"
Amy asks, "is that when the Neon went into hiding?"
"Yup."
Trevor continues, "It was like two months later and I'm with Mr. Pollock, our substitute teacher. We were in the computer lab, and he comes up to me, 'Hey, you don't do any road hunting, do you?'"
"No, I don't road hunt, what are you talking about?"
" 'Craziest story,' he says. He said, 'I was with my wife, we're coming back from the mall, and you know Cockram Road, right?' I'm like, 'oh, no.'  He says, 'we're following this little red car and my wife says, 'there's guns in that car,' and this idiot has no idea we're behind him because someone just sticks a gun out the window and he just starts shooting.' "
"I'm like, 'NO WAY!' "
" 'Yeah,' he says, 'it was the craziest thing. He just kept shooting and then all the sudden they must have realized I was behind him because they took off. They had to be doing 100 miles per hour.''
"I'm like, "WOW!, no way.'" 
" 'I know you hunt and I thought it might be you, and I said, 'little red car? We don't drive little red cars. We drive pickup trucks.' " 
" 'Well, I didn't think it would be you.' " 
"No, I never heard of such a thing before."
It was another story that brought peals of laugher from Derek's friends and family. 
As the stories wound down, his mother said, "I appreciate all of you being here and sharing in his life. We should remember the good times."
Calling hours are today from 3 to 7 p.m. at H.E. Turner, 51 S. Lake Road Bergen. Derek's funeral is at 3 p.m., Thursday, at the First Presbyterian Church, Bergen.
Ashley Stillwell, Derek's girlfriend, who was a passenger on his bike at the time of the accident Sunday, remains in critical condition at Strong Memorial Hospital. She's been through 17 hours of surgery so far. She did receive visitors yesterday.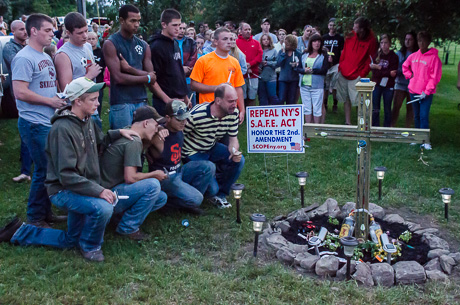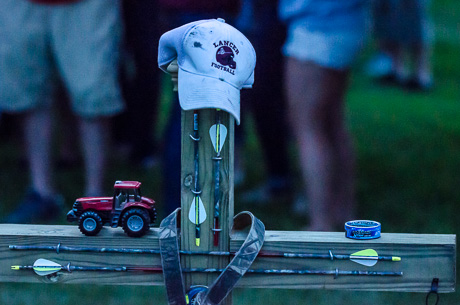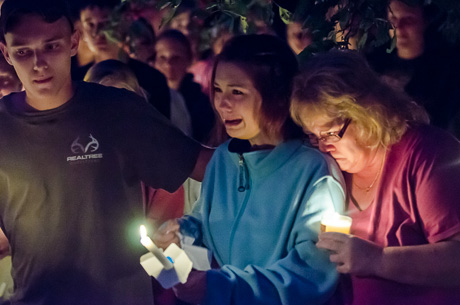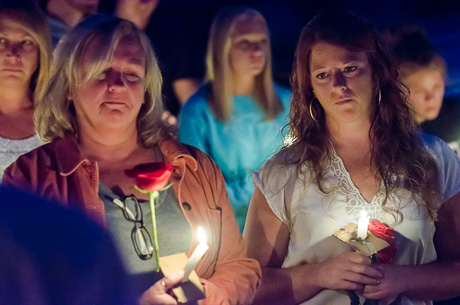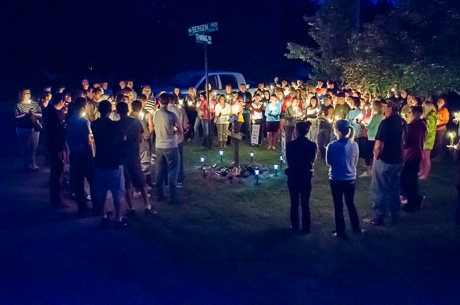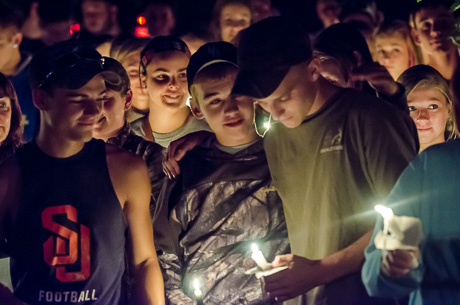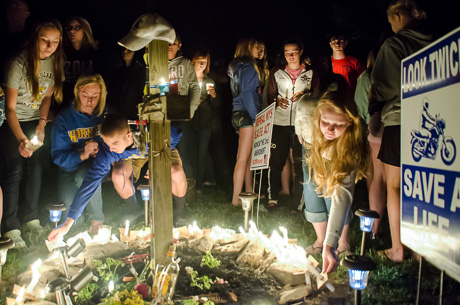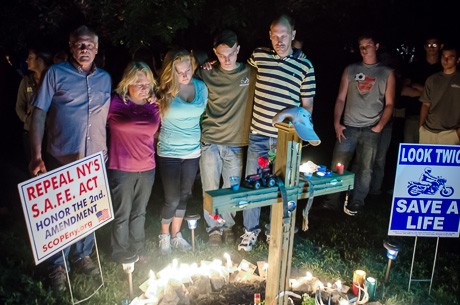 Derek Sheldon's family.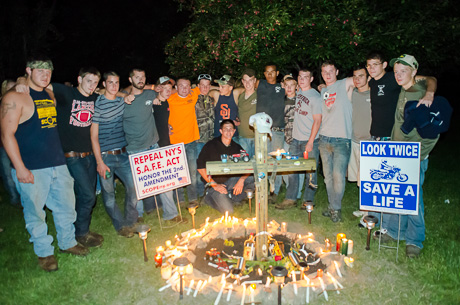 Derek Sheldon's close friends. "The Crew" is (not in order): Andy Underhill, Justin Beverly, Jake Maurer, Jamie Maskell, Amy Fagon, Austin Richardson, Mason Muoio, Trevor Wasman, Zachary Gillard, Steven Underhill, Cody Naylor, Evan Cole, Casey Cole, Andy Boyce, Khari Sabb, Josh Lathan, Mike Richard, Shawna Adams, Whitley Stefaniak and Clayton Lovelace.
August 7, 2013 - 11:37am
#1
What an awesome tribute to Derek....much respect.
August 8, 2013 - 12:50am
#2
I didn't know Derek. By the looks of the photographs, he is loved and respected by many. My condolences to all. Prayers to Ashley.