August 14, 2013 - 9:17am
SCOPE President: SAFE Act pushing gun owners toward greater political awareness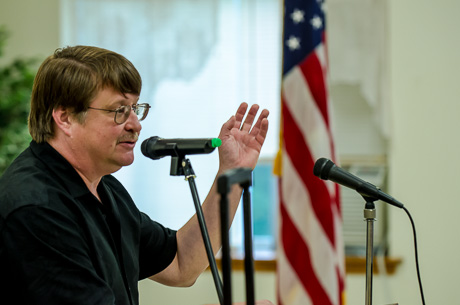 Since passage of the SAFE Act, membership in SCOPE (Shooters Committee on Political Education) has more than doubled, Steve Aldstadt, the group's state president, told the Genesee County chapter last night.
There are now 5,400 members and new members continue to join at a record pace.
"Unfortunately it took something like the SAFE Act to get everybody aware and involved," Aldstadt said.
With some four to five million gun owners in New York, he thinks there are enough votes among those who value the Second Amendment to sway any statewide election.
SCOPE is pursuing a multi-election strategy aimed at eventually getting the SAFE Act repealed.
This year, SCOPE is concentrating on county legislature elections with a goal of voting out some of the legislators across the state who voted against a resolution calling for the repeal of the SAFE Act.
"If we can get rid of a few of those legislators who supported the SAFE Act this year, it will make a definite impact on those state legislators who are going to be on the ballot next year in 2014," Aldstadt said.
Working with the Freedom Coalition, SCOPE is helping to organized the Freedompalooza Concert in Altamont, which is Aug. 24.
That will act as a fundraiser for a massive voter registration drive of gun owners. SCOPE will work to identify gun owners who aren't registered to vote and get them registered.
"We are not a minority in this state," Aldstadt said. "We have enough people to effect any statewide election and win."
Changing the name of the governor will take more than just more voters, Aldstadt acknowledged. The GOP also needs to find a good candidate to run against Andrew Cuomo.
"Cuomo can definitely be beat," Aldstadt said. "He has so many negatives right now. It's just a matter of the opposition coming up with a credible candidate."
If the pieces fall into place, those politicians who supported the SAFE Act might be surprised at the results, Aldstadt said.
"I think when they passed this law, they thought people were going to get upset for a little bit, maybe have a protest or two, and then it would all go away," he said. "Well, it's not going away."
For more information about SCOPE, visit the Genesee County chapter's Web site.
August 18, 2013 - 6:31pm
#4
John I agree with you.
Don party lines do not protect a 100% of your rights. "We The People" are the only ones who can ensure our rights are protected and we all come from different backgrounds and political parties. I know plenty of Democrats who are upset with Cuomo and his stance on Gun Control.
Don, no one party can 100% guarantee anything. There are always some people who join a political party just because, it may best fit their beliefs but, does not mean they agree with that party a 100%. Then you have politicians who join a party because, they believe that is their best chance to get elected and not because, they stand a 100% for that party's goals or beliefs. No one can make everyone happy.
Don, we all seen in the past where a politician promise to be in support for an issue and once elected be against. Obama and Cuomo are just a few of the puppets that, need to be removed. Big Business/Corporation are the actual violators of your rights. They control elections, they control the candidates, they control America. If the government was actually in charge then, big business would never leave America.
Don, "We The People" should take back control of our government and politicians need to understand they work for us and not themselves. However, have you ever seen a low income or lower middle class candidate? Most ever candidate has a tremendous financial backing otherwise, they would not be where they are. Money talks and BS walks. Politicians are invested in big business/corporations, look at Louise Slaughter (D). Her net worth has increased tremendously over the years as a Congresswoman. She is not the only one.