January 6, 2014 - 3:53pm
Bellavia: Fall of Fallujah is a bitter pill to swallow for Iraq War vets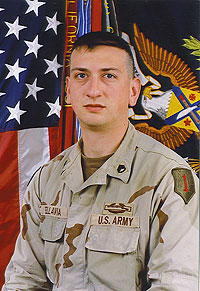 The way David Bellavia sees it, there's no real chance of going back to Fallujah, not that he and few of his fellow Iraq War veterans haven't mentioned the idea in conversation.
The news reports of al-Qaida-linked forces capturing Fallujah and Ramadi hasn't sat well with Bellavia, nor the families of those who lost loved ones in battles to secure those cities for Iraq's government, said the Batavia resident who was awarded a Silver Star for his role in liberating Fallujah from insurgents in 2004.
"It's a black eye for our foreign policy in the Middle East," Bellavia said. "It's the same group we backed in Syria and not a damn thing was said about it. The enemy in Iraq is the very force that has tried to overthrow Assad. It shows how absolutely difficult the Middle East has become. This administration has decided Iraq is not important. All of the focus is on Afghanistan, so as far as Iraq goes, it's a closed chapter and we move on. For the veterans of that war, it's a bitter pill to swallow."
Bellavia said he talks regularly with fellow veterans and he's also heard from three families who lost loved ones in Fallujah and nobody is happy about the turn of events. It does indeed cause some to ask "what did we fight for?" -- he thinks that's really the goal of al-Qaida.
Bellavia compared the fall of Fallujah to the fall of Saigon, saying Fallujah is his generation's Normandy. He said it was sacred ground.
"Fallujah has no tactical value to the enemy at all," Bellavia said. "It's nothing but a moral victory. If you want to take over Iraq, you capture Basra and Baghdad. Taking over Fallujah is nothing but a thumb in the eye to Americans."
What's particularly galling, Bellavia said, is the seeming willingness of Fallujah residents, who once welcomed the Americans, now supporting al-Qaida.
"Before last month, we believed people (in Fallujah) appreciated the sacrafice, but you can't say that now," Bellavia said, "especially when you hear the locals are taking al-Qaida in and housing them and helping them stand against the government. What do you say to that?"
Perhaps if the administration had more aggressively pursued a status of force agreement that allowed more air cover for government forces, al-Qaida wouldn't have felt emboldened to capture the cities of the Al Anbar Province.
As it is, it didn't take much for the Islamic radicals to capture territory Americans once fought so hard to free.
"You know there's a problem when you get a report that a city fell and there are only eight people dead," Bellavia said. "That means whoever was defending the city just left. They didn't want to risk their blood to defend the city."
One thing Bellavia doesn't see happening is U.S. troops returning to Fallujah.
"I don't think anybody wants boots on the ground," Bellavia said. 
Even with the change in circumstances, al-Qaida isn't in full control of the city. Sunni tribal forces are also asserting authority while the Shiite-led government of Iraq has seemingly abandoned its posts.
Eventually, Bellavia believes, Iraq will muster sufficient security forces to retake Fallujah. But then what? The Sunnis and the radicals will just want it back, and so on, with no end in sight.
But perhaps, Bellavia said, that's the enduring lesson of Iraq, with consequences for U.S. foreign policy throughout the region.
"We can't be there forever," Bellavia said. "Were we going to have permanent bases in Iraq like Germany or Japan? That's the tough lesson. If they choose not to fight, they choose not to fight. It doesn't make it easier for those who lost loved ones, but we can't go back. We're all now 10 years from the fight. We have families. We have children. Would we want our sons and daughters to go back to Iraq and finish the job we couldn't? Absolutely not. There's no way I would want my son to go through anything like I went through. We served our country, we did it with honor and an unflinching sense of duty, but we can't save the world if we are the only ones willing to die for the cause."
January 6, 2014 - 6:27pm
#3
The U.S.–Iraq Status of Forces Agreement (SOFA) was signed into law by George W. Bush in 2008. It essentially enforced the sovereign right of Iraq to agree to terms for withdrawal of U. S. forces by December of 2011 and thereafter independent aegis was transferred to the Iraqi constitutional government. If Obama had insisted on keeping 3,000 troops behind (as he intended) the Iraqi government countered with a refusal to grant legal immunity from local prosecution to any such latent U. S. troops.
David Bellavia asks "what did we fight for?" It's a legitimate question.
In a speech by George W. Bush on March 17, 2003, these justifications for military intervention were given:
The government of Iraq defied demands for full disarmament.
Peaceful efforts to disarm the Iraqi government failed.
Iraq possessed and used weapons of mass destruction.
The Iraqi government aided, trained and harbored terrorists, including operatives of Al Qaeda to which the Iraqi government provided chemical, biological or, one day, nuclear weapons.
The United States of America had the sovereign authority to use force in assuring its own national security.
The U.N. Security Council Resolutions 678 and 687 authorized the United States and its allies to use force in ridding Iraq of weapons of mass destruction.
Saddam Hussein and his sons failed to leave Iraq within 48 hours.
Destruction of oil wells would not be tolerated.
The Iraqi people were deserving and capable of human liberty.
As of today…
The government of Iraq remains armed. The United States announced an acceleration of military sales and deliveries to Iraq to help fight resurgents in Anbar province. The U. S. will provide Hellfire missiles as well as ScanEagle and Raven surveillance UAVs.
Stockpiles of WMDs never existed, and the facilities to produce biological or chemical weapons were essentially experimental labs which could not have produced quantities to support mass applications.
Collusion between Saddam Hussein and Al Quaeda has never been confirmed and remains dubious. Saddam did not support or abet the 9/11 attacks.
By most international standards, the United States lacked any authority to launch a strike against Iraq. The Bush administration recognized that Council Resolution 1441 did not authorize an invasion of Iraq and a Security Council decision was required to authorize such an invasion.
Saddam and his sons have left Iraq.
The oil fields are under the protective care of ExxonMobil, BP and Royal Dutch Shell, et al.
The Iraqi people, however divided, have a government: an Islamic, democratic, federal, parliamentary republic.