April 17, 2014 - 12:06pm
Vandals knock down 25 headstones at Elmwood Cemetery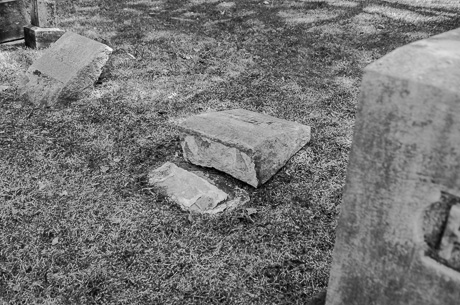 Among the headstones knocked over in the Elmwood Cemetery this weekend, according to Superintendent Steve Davis, was one marking the grave of a toddler.
In all, some 25 headstones were knocked over sometime over the weekend.
"I've been here almost 20 years and every year we get some form of vandalism," Davis said.
It's not always headstones getting knocked over, Davis said. Makers have been spray-painted; glass bottles have been broken on graves; and flower pots have been stolen. One time, somebody even vandalized the veterans memorial at Elmwood.
"I don't know, maybe it's just a bad neighborhood," Davis said.
In 2009, five 12-year-olds were identified as the youths who knocked over 75 headstones, but usually, the vandals are never caught.
Davis has already put the smaller headstones, including the 2-year-old's, back in place, but other will need the base leveled and the headstones epoxyed back in place.
That will cost some $500 to $600, Davis said.
With every internment in New York, there's a $5 fee paid to the State of New York for a vandalism fund. The cemetery board will have the option of applying for reimbursement from that fund, but payment could take up to a year, Davis said.
In 2009, Elmwood received about $1,000 for the damage caused by the 12-year-olds.
Davis did file a police report. Anybody with information about the vandalism can contact BPD at (585) 345-6350.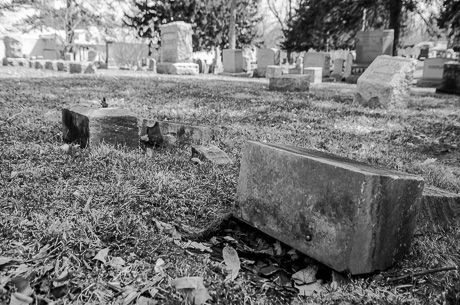 April 17, 2014 - 12:34pm
#1
Somebody knows who.
Hopefully that person or persons can sympathize with the loved one who's graves were vandalized. Hopefully they are a better person than those who did this. As to the people who committed this awful act you need help.
Howard, I remember that previous act of vandalism. As I remember reading the story on The Batavian, someone was quoted as saying that the parents were not in the position of making financial amends. Was there at least community service involved for those 12 year olds ?