Image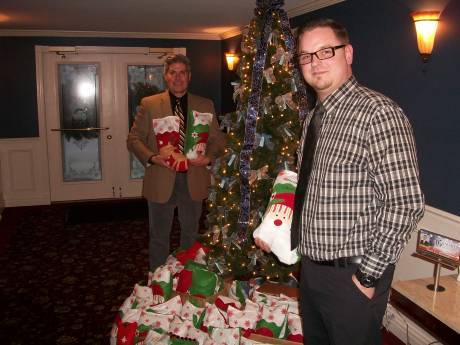 The holidays have just gotten started, and Timothy J. Woodward is already overwhelmed.
Overwhelmed by generosity, that is.
Woodward is the owner and director of Gilmartin Funeral Home & Cremation Company in Batavia.  He is pictured (left) along with funeral assistant Matt Meyer.
The funeral home is wrapping up its first "Stockings for Soldiers" campaign, an idea that Woodward said came from Veterans & Family Memorial Care, of which Gilmartin is the sole provider for Genesee and Wyoming counties.
Genesee and Wyoming county residents picked up stockings provided by Gilmartin at its three locations (Batavia, Attica and Perry), stuffed them with "goodies," and brought them back to be shipped out to men and women in uniform serving in all military branches and at all ranks. 
Woodward had hoped to have the stockings shipped out by the weekend, but said that may not happen until Monday because of the large number of drop-offs that have occurred since the Dec. 1 deadline.
"That's great, and we don't want to discourage it," Woodward said. "But we do want to make sure that we have all of the drop-offs in so that we can ship them together."
The contents of the stockings range widely and include powdered Gatorade, non-perishable food items, toiletries, batteries, books, magazines and hard candy.
While the sum total of returned stockings have not yet been counted, Woodward said they have somewhere between 500 and 600.
"We want to say thank you very much to everyone who helped us with this enormous project," he added.
He wanted to offer a special thank-you to Tim and Linda Landers, of Byron, who donated $300 to help with the shipping cost.
"The response has been pretty overwhelming," Meyer said. "We look forward to doing it again next year."