December 22, 2014 - 7:46am
Suspect in baby death case reportedly attempts suicide in jail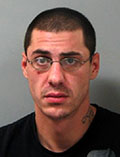 Jeffrey Deats
Jeffrey L. Deats, the 28-year-old Batavia resident held on a manslaughter charge in the death of Baby Chandler Zuchs, reportedly attempted suicide overnight.
Sheriff Gary Maha said Deats was found in his cell at 11:55 p.m. He had tried to use a bedsheet to hang himself.
A corrections officer performed CPR. Deats was transported to UMMC and later transferred to ECMC, where he is listed in critical condition.
"I cannot comment on his medical condition due to confidentially issues, but he is still alive," Maha said.
A corrections officer had made a routine check of his cell nine minutes prior to Deats being found during the suicide attempt.
Deats was arrested Wednesday on a charge of manslaughter, 2nd.  
Six-month-old Chandler Zuchs, whom at the time Deats apparently believed was his son, was on an overnight visit the weekend before at the Olyn Avenue home of Deats when the child died.
Baby Chandler suffered brain injuries, according to a Medical Examiner's report, authorities said.
Following the arrest of Deats, a DNA report surfaced that showed another man, not Deats, was the biological father of Baby Chandler.
Previously: 
December 22, 2014 - 8:33am
#2
Cue "they should have let him die/finish the job" / "he almost saved the county a bunch of money" / "serves him right" posts!
:-P
But seriously, that may very well be a hint of guilty feelings...