August 14, 2015 - 4:17pm
Hannah Dibble headed to rehab in Pennsylvania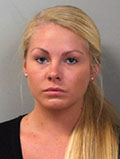 Hannah E. Dibble, pictured right, accused of second-degree vehicular manslaughter and other crimes stemming from a Feb. 21 accident, did not post bail after being jailed for violating a court order not to drink. Instead, she is being transported to a rehab facility in Pennsylvania, according to the DA's Office.
This comes within days of her supervision under Genesee Justice being revoked because she tested positive for alcohol. On Tuesday, Genesee County Court Judge Robert Noonan ordered the 22-year-old Pembroke resident held on $10,000 bail or $20,000 bond.
Her attorney, Ben Bonarigo, indicated in court that she had asked to go into rehab, that she wanted treatment.
On July 24, Dibble pled not guilty to an 11-count Grand Jury indictment that included: one count of vehicular manslaughter in the second degree; two counts of vehicular assault in the first degree; three counts of assault in the second degree; three counts of vehicular assault in the second degree; and two counts of DWI.
Corfu resident Alyson D. Krzanak, 18, was killed in the crash. James Scherer, 21, Brandon Danser, 22, and Felecia J. Fazzio, 20, all suffered serious physical injuries after the 1997 Chevrolet Geo that Dibble was driving crossed Route 20 at Molasses Hill Road, Bethany, and was struck by a semi-truck.
August 14, 2015 - 8:56pm
#2
Why is she allowed to leave the state to have treatment? It should be mandated she not leave the state. This is just like allowing her to have access to the outside world and being able to have freedom to do what she wants after she "attends". Give me a break!