Image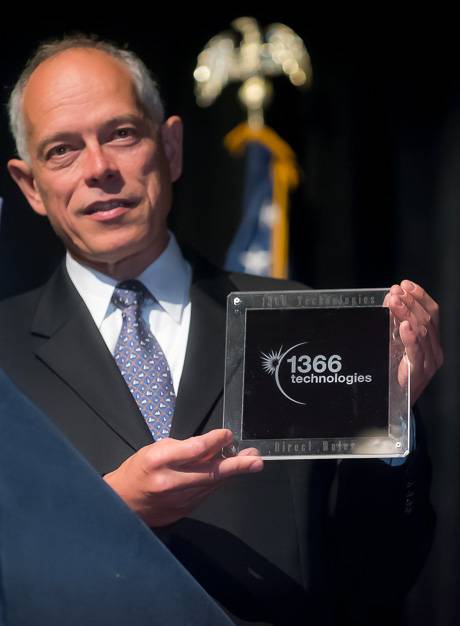 Frank van Mierlo is clearly a man who believes he has a role to play in changing the world.
The phrase "change the world" did, in fact, pass over the lips of the solar energy entrepreneur once today while he addressed a room full of local and state dignitaries in Stuart Steiner Theater at Genesee Community College. Van Mierlo was there, joined by Gov. Andrew Cuomo, to unveil ambitious plans for a $700 million investment by his company to build a silicon wafer factory on 105 acres of Genesee County land that could employ 1,000 people as soon as 2017.
Even the name of his company, 1366 Technologies, is a homage to van Mierlo's far-reaching global ambitions. Sunlight falls on the planet at the rate of 1,366 Watts per square meter, hence 1366. The number is significant because at that rate, the sun sends us 130,000 terawatts of energy each year. We only need a fraction of that, 17 TW, to power civilization.
"We need to rapidly deploy solar," van Mierlo said in an interview after the announcement. "We need to grow this industry at 30 percent a year. If we do that and we keep growing at 30 percent a year, by 2030, we will produce enough solar energy to power the planet."
And at a price cheaper than coal.
The solar energy market has been growing by 30 percent a year for 30 years, with rapidly improving technology, and like the power of compound interest, the rate of advancement is seemingly -- seemingly -- accelerating.
The technology that powers 1366 was incubated at the Massachusetts Institute of Technology and van Mierlo describes it as a game changer. The company's process cuts silicon waste, reduces the expense of production by 50 percent and takes a third less energy to produce a wafer than current manufacturing techniques.
Ely Sachs, a former MIT professor, is a partner in 1366 and the engineer behind the process 1366 uses to create its wafers. Rather than make clumps of silicon that are carved and cut into wafers, as is common in manufacturing solar wafers now, the 1366 process is more like making sheets of glass, poured directly from molten silicon.
The goal of 1366, van Mierlo said, is to make solar more affordable than coal.
"When solar was first introduced in 1970s, the cost was $7 per kilowatt hour," van Mierlo said. "A kilowatt hour, a little bit of a wonky term, but if you take an old-fashioned 100-watt lightbulb, you leave it on for 10 hours, that's a kilowatt hour. At the time, $7 per kilowatt hour, was extremely expensive. Now, 40 years later, unsubsidized, the cost on a good installation, in a sunny area, the cost is down to 7 cents per kilowatt hour.
Coal is currently about 3.2 cents per kilowatt hour.
The word unsubsidized is important. Solar may be one of the most heavily subsidized industries in America right now.
While states, including New York, offer tax credits for consumers and businesses to install solar panels, the federal government offers a 30-percent tax credit, but that's a tax credit set to expire next year and there is opposition in Washington to extending it. There is some concern that the solar industry has already grown "too big to fail" and ending the tax credit will cost more than 100,000 jobs nationally.
The political winds of the issue leave van Mierlo undaunted. Solar is simply an imperative society must pursue if we're going to change the world.
"A 30-percent growth rate only works when it's a team effort, so it's absolutely essential that everybody pitches in," van Mierlo said. "People like us have to pitch in. We have to come with the technology and the innovation. We have to deliver the cost reductions and we absolutely need broad support to keep growing fast enough. In the end, this becomes a self-fulfilling prophesy. If you believe in it, you support it, the cost will come down and it will bring economic prosperity. If you say it's never going to work and you walk away from it, well, then it will become impossible to make progress and that also becomes a self-fulfilling prophesy."
Cuomo has bet big on solar, backing a $1 billion investment known as NY-Sun and WNY is now poised to become a hub of solar energy production. Earlier this year, Solar City began construction on a 1.2-million-square-foot solar panel factory in Buffalo with the promise of creating 1,400 jobs. A major investor in Solar City is Elon Musk, the entrepreneur who helped launch PayPal and used the fortune that company brought him to launch Space X and Tesla Motors. Officials with Solar City said just a week ago that the panels it will produce in Buffalo will be the world's most efficient, using its own proprietary technology.
Musk is well known in tech circles for dreaming of saving the world through technology. Like Musk, van Mierlo is leveraging prior business success to help fund his own plant-saving ambitions. Prior to cofounding 1366, he owned a robotics company, again based on technology developed at MIT, that he eventually sold.
"It's true that I have some economic freedom, and working on something that matters, that's just a fun thing to do," van Mierlo said. "Given a choice, you outta do something that is worthwhile. Energy is an interesting problem and one that needs solving and I think we're going to play a big part in the solution."
The new 1366 plant will take up only about 8 percent of the 12,500-acre WNY Science and Technology Advanced Manufacturing Park -- STAMP -- in Alabama, a project Genesee County Economic Development Center CEO Steve Hyde has been working on for more than a decade. Nearly every speaker today, including Cuomo, Empire State Development CEO Howard Zemsky, Sen. Mike Ranzenhofer and Assembly Majority Leader Joseph D. Morelle praised Hyde's vision and tenacity in creating and sticking with STAMP, even as doubters and naysayers predicted it would never work.
"This is a game changer," Cuomo said. "A hundred-and-thirty-thousand-square-foot building. At the end of the day, as many as 1,000 jobs. Quality jobs. High-tech jobs. Well paying jobs feeding off an educated workforce being nurtured by some of the great educational institutions in this state. That is the future.
"And the way it happened is the way it should happen," he added. "The IDA worked with the county. The county worked with the region. Two regions collaborated. Western New York and the Finger Lakes, not competing, but actually collaborating and getting a world-class entrepreneur with a phenomenal product that not only can create jobs and make money but can also make this world a better world."
Van Mierlo said when the 1366 plant is fully operational, it will churn out enough wafers each year to generate three gigawatts of power. A nuclear power plant, by comparison, might generate a single gigawatt of power each year.
Increased production and distribution will help bring the cost of solar energy down, which is what van Mierlo said he is really after.
"When solar is 2 cents a kilowatt hour, we can pay for installations that are less than ideal, can pay for energy storage and you will end up with a clean solution that is actually affordable," van Mierlo said. "I'm a firm believer that it's actually possible here to have a solution that helps the economy, but it's not going to come easy.
"The important thing now: Manage the energy supply so that it doesn't threaten life on the planet and that we end up with a solution that doesn't compromise our economy either. We absolutely need investment. We need support. But we also need to bring the cost down so it helps the economy and not just a continuous investment plan."
With the first project scheduled to break ground in the spring, the state will now release some $33 million in grant money pledged to create the infrastructure -- roads, sewers, utilities -- necessary for STAMP to attract manufacturing businesses. While 1366 will benefit indirectly from this investment, the direct subsidies 1366 will receive are those frequently approved by the GCEDC board, from a reduction in taxes on the increased assessment of the property (and the increased assessment will be substantial in this case), to mortgage tax relief to sales tax abatement on materials. The total package will be worth $97 million over 10 years.
Those incentives certainly played a role in 1366's decision to come to Genesee County, van Mierlo said, but he was also attracted by the workforce the area's universities can provide, the central location between Rochester and Buffalo and, most importantly, the inexpensive, clean energy provided by Niagara Falls.
"Hydropower is a real attraction and will be one that is a real advantage to us," van Mierlo said. "It cuts the cost of making the wafer by a factor of three and it's clean. The use of hydropower means there is no C02 at all. Steve Hyde calls it 'clean to green,' and that's a phrase that has really come to life."
Now that 1366 is coming to STAMP and boosters have a real project to talk about with site selectors and potential tenants, it's going to get easier to attract the next business into the park, both Hyde and Mark Peterson, CEO of Greater Rochester Enterprise said.
Those who make decisions about where to construct high-tech facilities are going to become believers in STAMP now, Peterson said.
"People are going to say, 'wow, holy cow, this is real,' " Peterson said. "This a mega site, 1,250 acres. You don't have very many of those with power and water to them in the world, so we're on the world stage right now and this is only going to make us more competitive. Genesee County is right in the middle of Buffalo and Rochester. This is going to be the place to be."
Peterson said computer models run by GRE indicate the 1366 plant, with an economic multiplier effect, will generate more than $4.3 billion in spending regionally over the next five years.
Like the governor, Hyde called the 1366 announcement a "game changer."
"This is a new day," Hyde said. "We have technology companies to the left in Buffalo, to the right in Rochester, and now they're right here right now. Where else would you rather be today? We have opportunities through investments and technology and terrific companies like 1366 Technologies that are going to be here for years and create thousands of high-paying jobs for our kids."
Image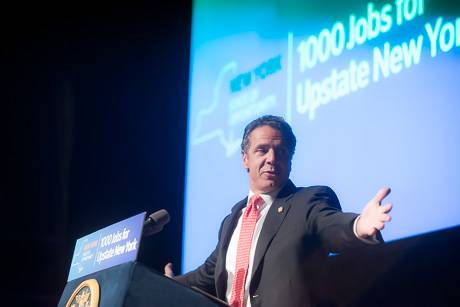 Gov. Andrew Cuomo.
Image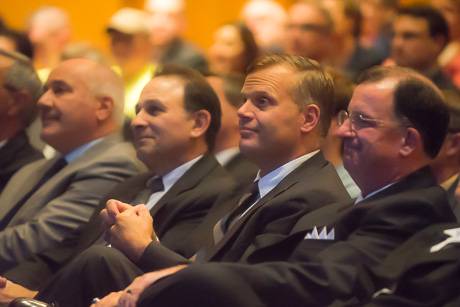 Steve Hyde flanked by Ray Cianfrini, chairman of the Gensee County Legislature, and Mark Peterson, CEO of Greater Rochester Enterprise.
Image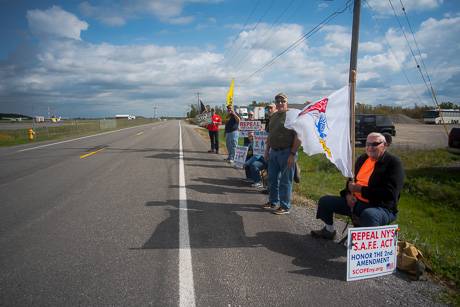 Members of Genesee County SCOPE were set up on East Saile Drive, across the road from the County Airport, prior to the governor's arrival in Batavia, to protest the SAFE Act. There were also picketers on Bank Street Road, on R. Stephen Hawley Drive and just outside the GCC entrance.