Image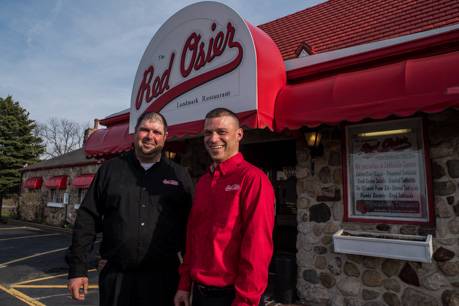 Bob Moore said he feels bittersweet about stepping away from the business he and his wife Noreen opened together 37 years ago, but he couldn't be happier with the new owners.
Tim Adams and Steve Foster become owners tomorrow afternoon of the Red Osier Landmark Restaurant in Stafford.
Already business partners with Adams Welding and other business interests, Adams and Foster said not only did the restaurant business interest them, they couldn't stand the idea of an outside buyer taking over a local tradition.
"There's no place like it," said Adams, who was named Geneseean of the Year for 2013. "It would have been a shame to see it shut down or turned into a Chuck E. Cheese. That's what people have been saying, it could have become a Chuck E. Cheese, or somebody could have moved it to another location and we would have had another empty building here. It's a special place so it would have been a shame to have it lost."
Foster started working at the Red Osier 20 years ago, straight out of high school, first as a server and working his way up through the ranks as a bartender and in the kitchen before becoming manager 10 years ago.
"The Red Osier is just a special family," Foster said. "We're all family."
Adams and Foster will retain the restaurant's 70 employees.
Moore said he's not retiring, just stepping aside from owning and running his own restaurant. He will serve as a consultant to Adams and Foster as well as his son, who owns another branch of the Red Osier brand, based in Rochester. 
He's excited to see what Adams and Foster will bring to Red Osier.
"That's what we need, young guys, like we were 37 years ago," Moore said. "They're like my wife and I were, full of piss and vinegar."
There won't be substantial changes, but Foster said there is definitely a magic about the Red Osier to be recaptured and they hope to do that with some decor changes to start -- new uniforms, new white table clothes, a regional wine display, historic pictures of the restaurant are a start.
Moore approves. 
"These guys are full of ideas," Moore said. "I want to help them implement as much as I can. The place looks beautiful. Wow! What a facelift."
There were eight or nine other potential buyers who looked into the restaurant before Adams and Foster approached him, and he immediately thought they would be a perfect fit to take over his business.
Noreen agreed.
"We couldn't have done better," she said.
Image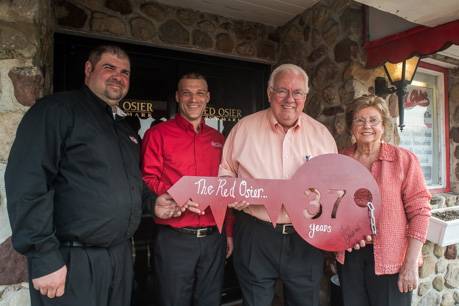 Tim Adams ad Steve Foster with Bob and Noreen Moore and a commemorative key Tim and Steve made for them at their metal shop.