April 26, 2018 - 11:55pm
In 1921, Matthew Bullock fled to Batavia on his way to Canada to escape lynching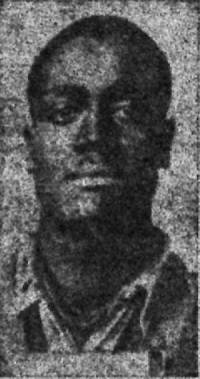 Today a new memorial to the victims of lynching from throughout the country was dedicated in Montgomery, Ala.
In recognition of the dedication of the memorial, this is the story of a family who once lived in Batavia and lost a son to a lynching in North Carolina while another son fled for his life to Canada with a brief visit to Batavia on his way further north.
Rev. William Bullock, a father of 13 children, moved here with his family from Virginia in 1908. He bought a house for $500 and later sold it to Mary Quaslafaro for $3,200 and moved to Macon, N.C., with 12 of his 13 children.
While living in Batavia, he did odd jobs and cleaned offices. During his sojourn in Batavia, he and his family also lived at 103 Jackson St. and 26 Jefferson. When it came time to move, he told the Batavia Daily News that,  "I have all courtesies and respect for the people of Batavia." 
His sons included Plummer Bullock and Matthew Bullock.
According to an account from the March 1922 issue of The Crisis, the magazine of the NAACP, Plummer and Matthew ran into trouble in January 1921 in a store in Norlina, N.C. 
Plummer paid for better-grade apples, according to the account, and a white youth attempted to give him rotten apples. Plummer protested and when he "stoutly maintained he should receive what he paid for" a dispute arose. 
As he left the store, people in the store threatened to beat him for daring to talk back to a white man.
That afternoon there was considerable discussion around town, according to The Crisis, about what happened that grew with each telling. 
Soon, there was talk of lynching Plummer.
William Bullock, according to the magazine article, was a respected minister in town. He asked the Sheriff to lock up his son for safekeeping.
Within a few hours, a mob formed and when meeting a group of black youths as they tried to make their way to the jail, a fight ensued. Several people on both sides were injured.
Later that night, the mob reformed and stormed the jail, seized Plummer and another man held at the jail, and lynched them both. 
They then went looking for Matthew Bullock.
Matthew Bullock fled. He was next spotted in Batavia and became the subject of stories in the Batavia Daily News.
The Feb. 3, 1921 story about his arrival in town includes:
Bullock said that about two weeks ago his brother, Plummer Bullock, a 17-year-old boy, was lynched by a mob which afterward riddled his body with bullets. Plummer got into an argument with a white storekeeper over 10 cents worth of apples which the boy had purchased and wanted to return. The argument started a race riot and Bullock, who was working on a farm, began his flight to the North without learning whether anything happened to the other members of his family. Including himself, there were 12 children in the family.

Southern mobs are not satisfied with the killing of the person who aroused them, but seek to exterminate their victim's entire family, Bullock said. Although he was assured that he was among friends and that no harm would come to him in Batavia, the young man declared that he was not far enough away from his southern home and intended to keep on going. If the mob that killed his brother located him it would attempt to take his life, he claimed.
The newspaper continued to track attempts by Southern law enforcement to locate Matthew and reported Jan. 17, 1922, that Matthew was arrested in Canada. 
Two days later, the newspaper reported that local residents had started a fundraising campaign to assist Matthew Bullock, who was a veteran of World War I.
Soon, Matthew Bullock's story wasn't just known in Batavia. The legal fight over his extradition from Canada became international news, gripping the world's newspaper readers for the next four months.
The NAACP hired attorneys in Canada to represent Matthew Bullock. 
The U.S. State Department demanded an extradition. A hearing was held before Judge Snider in Hamilton, Ontario, Canada. Snider demanded that North Carolina produce witnesses to prove that Bullock was guilty of the crime charged and to disprove that the demand for extradition was a subterfuge to get Bullock back in the state's jurisdiction where he could be railroaded to jail and perhaps lynched. He adjourned the hearing for one week to give North Carolina an opportunity to produce witnesses.
"Bullock admitted freely that he fired several shots in defense of his life when attacked by the mob while the mob was on its way to the jail to lynch Plummer Bullock," The Crisis reported. "Under provisions of the treaty between Canada and the United States, shooting in the defense of ones life is not an extraditable office, while attempted murder is."
Governor Cameron Morrison of North Carolina refused to produce witnesses.
In The New York Times, Feb. 19, 1922, Morrison is quoted, while discussing the Bullock case, as saying, "People in some sections of the country do not seem to understand that so-called lynchings in the South are nothing more than the killing of a criminal by the friends and frequently outraged relatives of the victim of the prisoner's crime."
Snider refused the request to extradite Matthew Bullock and he was released.
On May 1, 1922, the Batavia Daily News reported that Bullock intended to go aboard to escape the reach of the KKK. Other reports said he would flee to England. 
According to family tree records on Ancestry.com, Matthew Bullock eventually returned to Warran, N.C., where he died Sept. 30, 1982.
Thank you to Michael Eula and Judy Stiles of the Genesee County History Department for their assistance with this story.
April 27, 2018 - 2:17pm
#1