May 15, 2014 - 12:15pm
Genesee, Monroe County dancers to perform at nationally televised event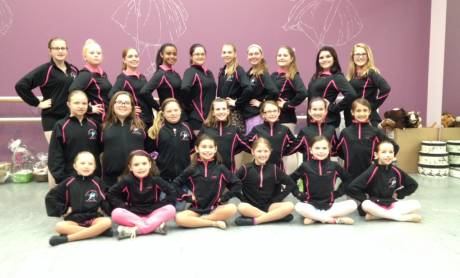 On New Year's Day, 26 lucky young ladies will ring in the new year in the Outback -- that is, in the stadium at the Outback Bowl half-time show in Tampa, Florida.
All 26 girls, ages 8 to 18, are students at Suzanne's School of Dance at 33 Center St. in Batavia. Most are from Genesee County, though there are a couple from Monroe County as well.
Sponsored by Outback Steakhouse and always held on January 1, the Outback Bowl is an annual, nationally broadcast college football game featuring teams from the Southeastern and Big Ten Conferences. The 26 dancers from Suzanne's will be representing Genesee County and Western New York in a performance featuring around 500 youth from all over the United States.
If this is an exciting opportunity, it is also going to be a test of skill and focus. The girls will spend a week in Tampa leading up to the big game, and their schedule will be packed with daily rehearsals to coordinate their choreography with the other 500 dancers.
Each participant faces a cost of about $1,300 for room and board, so the group is asking individuals and businesses in Genesee County to help offset the expense. Various fundraisers will take place over the next several months, and private donations are welcome as well.
According to Jennifer Vislay, the mother of one of the participants, the girls were selected as a result of an audition video that they wanted to do as a group rather than individually.
"They do everything as a team," Vislay said. "The older girls help the younger girls...it's just a very team-oriented project."
The first fundraiser will be a chicken barbeque this Sunday. It it set to start at 11 a.m. in the parking lot across the street from the studio, and will continue until sold out. A bake sale, basket raffle and 50/50 raffle will be included.
For more information, call Vislay at 737-5314.
The 26 dancers are, in alphabetical order by first name, Alexis Vasciannie, Allison Kropf, Alynn Franclemont, Amber Fitzsimmons, Ashley Johnson, Ashlyn Puccio, Aubrey Puccio, Cianna Kusmierski, Elizabeth Barcomb, Ella Bridges, Emilee Schroeder, Emily Thompson, Emily Verdaasdonk, Emma Richardson, Gyna Gibson, Haley Sweet, Kali Markek, Katie Raziano, Kendall Senko, Lily Senko, Maddie Phillips, Megan Currier, Micheala Misiti, Mikey Lullo, Mollie Heale, Rylei Odessa and Sarah Whitehead.
Photo taken by Jennifer Vislay