March 13, 2013 - 8:07pm
Le Roy High School presents 'Anything Goes'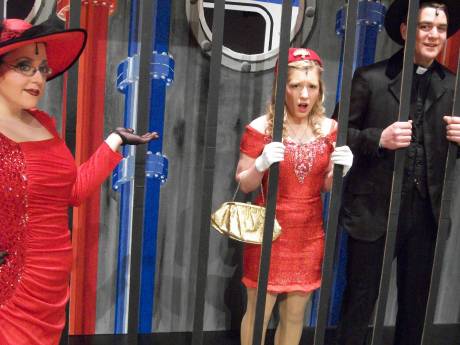 Le Roy high schoolers Margaret Kovach, Erica Parker and Ben Neumann posed in character during a rehearsal of "Anything Goes," Le Roy Jr./Sr. High School's 2013 musical production. They will be playing Reno, Bonnie and Moonface Martin, respectively.
Jackie McLean, chorus teacher for the Le Roy schools and musical director for the play, described "Anything Goes" as an intricate, laugh-out-loud funny show with great characters.
More than 80 kids are involved in this production, including cast and crew members.
With music and lyrics by Cole Porter, the show takes place on a cruise ship and features comic circumstances resulting from three love triangles.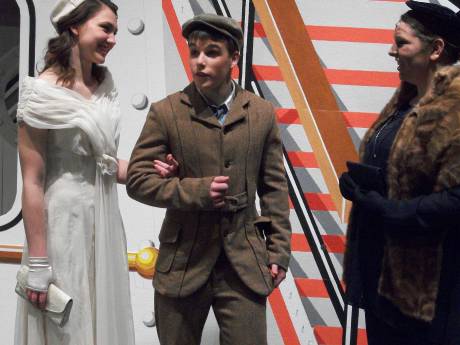 Pictured Ashley Webb (Hope), Steven Farnholz (Evelyn) and Natalie Salphine (Mrs. Harcourt)
"The script is jam-packed with funny moments and intricacies," McClean said.
She also said that the cast, which is made up of students in grades seven through 12, "did a great job of making the characters believable."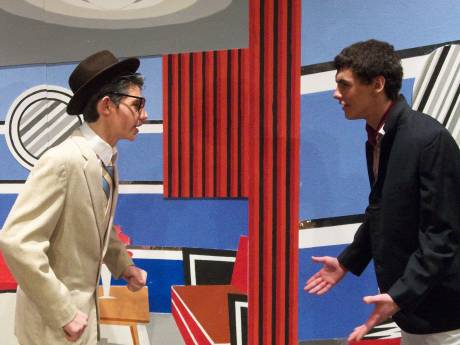 Danny Weaver and Jayce Seeley play Mr. Whitney and Billy, respectively.
Having "believable" characters is a big change from last year's performance of "Cinderella," which had a fanciful fairy tale atmosphere. With "Anything Goes," the kids have switched to a more realistic setting.
"It was a challenge, but they've done a great job," McClean said. "It's a great group of kids."
For her part, McClean understands and appreciates the challenge of bringing these characters to life. She was in "Anything Goes" as a junior at Batavia High School, which put on its own performance of the show in 2001.
"I picked the show (for the 2013 musical) because I loved it when I was in it," she said. "I understand the challenges, and also the funny moments and the characters, because I lived it. That gives you a different perspective."
As for the music, McClean describes it as old-style jazz with a "huge choral involvement." So in addition to great sets and lots of humor, "Anything Goes" will also boast a large chorus.
Le Roy is known for setting a high bar when it comes to its school musicals. Each year, staff and students like to give audiences something new to look forward to.
This year, audiences can look forward to huge, elaborate tap dance numbers by the whole cast, as well as a six-foot platform of the cruise ship built by Patrick Patton, complete with the look of a real ship and lights that go on at night.
Patton, the father of a Le Roy High School student, has been building sets for these productions for seven years. McClean said he sets a new challenge for himself with each one.
"He's amazing," she said. "(His sets) get better each year."
Performances of "Anything Goes" will be held Thursday, Friday and Saturday in the high school auditorium, at 9300 South St. Road in Le Roy. All performances will begin at 7 p.m.
All tickets are $8 each and can be purchased at the door, via the district Web site or at the school's main office.
Supplemental Photos: Past Performances