February 28, 2018 - 3:11pm
A legacy rekindled, a history preserved at Farmer's Creekside Tavern & Inn
In July 2017, we welcomed a new business to Genesee County – but its building has history dating back to the 1820s. On Main Street in Le Roy sits the beautiful Farmer's Creekside Tavern & Inn.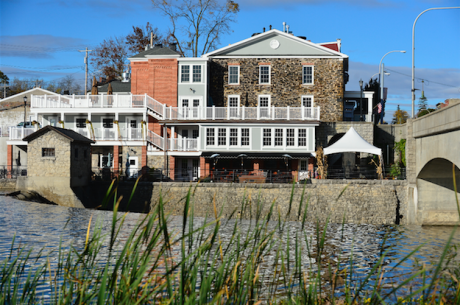 Walk in the front doors and you'll find yourself in a cozy downstairs tavern and restaurant. Journey upstairs, and you'll be blown away by the stunning gathering spaces and overnight accommodations. And no matter where you step, you'll be able to see the view of the Oatka Creek bed – stunning in both the summer and winter months.
With so much beauty and finery, you'd never know that Farmer's Creekside has a rich and tragic history. The building was constructed in the 1820s and was one of Main Street, Le Roy's first locations. Over the years, the building served as a hat factory, a bank office, and several private residences. But in 2004, a fire nearly claimed the building for good, destroying almost all of the structure and interior.
Restoring this building and opening Creekside has truly been a labor of love for owner Bill Farmer. He acquired the building in 2007 and is welcoming visitors to enjoy the space – 10 years later.
Now that the wait is over, it's time to make your reservation. Executive Chef Sean Wolf offers a tavern menu with sandwiches, salads and snacks, and a more upscale dinner menu featuring modern expressions of classic tavern fare. You're bound to find something to make your mouth water. And with a well-stocked bar featuring 18 beers on tap and a selection of regional and global wines, there are plenty of drink options to complement your meal.
Once you've filled your belly, check out the view – or check into one of three brand new suites. Each one is decorated differently and features a modern yet timeless design that perfectly blends into the building's brick walls, black Marcellus shale, and original wood beams.
On occasion, Farmer's Creekside will host special events that are open to the public. They also offer space for private events and gatherings with advance reservation.
Support Genesee County's newest offering! Farmer's is open for lunch and dinner, Sunday through Thursday from 11 a.m. – 9 p.m. and Friday and Saturday from 11 a.m. – 10 p.m. The Bar is open for extended hours in the evenings, and overnights can be booked year-round.
Learn more about Farmer's Creekside and their story at: http://www.farmerscreekside.com/. Or visit www.VisitGeneseeNY.com to learn more about Genesee County's unique attractions and local offerings.